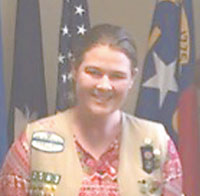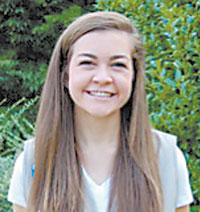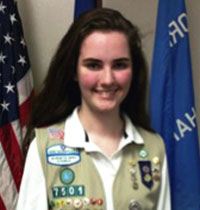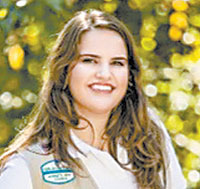 CHARLOTTE — Charlotte Catholic High School announces that four of its seniors have earned the Girl Scout Gold Award, the most prestigious honor in Girl Scouting.
Sarah Anderson, Taylor Buck, Caroline Gorman, and Kelsie Roper were honored by the Hornets' Nest Council on April 29. Their Gold Award ceremony was held that afternoon at Calvary Church.
The Girl Scout Gold Award represents the highest achievement in Girl Scouting.
Sarah Anderson wished to use her Gold Award project as a means to raise awareness of the need to spay and neuter pets. She also wanted to make more people mindful of the amount of time and money that are needed to provide a loving home to a dog or cat. Her concern involves people who think they want pets, but once they adopt a dog or a cat, they realize they are unable to take care of them, and leave them at a shelter.
She established a club at Charlotte Catholic called the PAWS (Pets Are Wonderful Support) Club, and set up a website, www.charlottecatholicpawsclub.weebly.com, to provide information to the community about homeless animals in our area and all over the country. The website emphasizes the importance of spaying and neutering. It also seeks to reach people before they adopt pets, and raise awareness among prospective pet owners regarding the money and time it takes to provide a good home to a dog or cat.
She spent more than 80 hours on her Gold Award project, and received a Certificate of Recognition from U.S. Sen. Thom Tillis.
Taylor Buck realized that teenagers need a space where they feel safe, comfortable and welcomed. This led her to discover that churches that gave serious thought to their teen meeting spaces had higher levels of teen participation.
She formed a team of eight teens, and they compiled data from churches around the United States, as well as churches in other countries. Using the data they collected, they formed a plan to renovate the church's teen room at her church. She coordinated a 24-hour lock-in to complete the renovation.
She then worked with the church's video director and a local producer to make a video to share the information with other churches. She also learned about web design and created a web site to make her information available to other Girl Scouts searching for Gold Award projects, in the hope that they would be able to complete similar projects at their churches, giving teenagers a place of belonging.
Caroline Gorman planned her Gold Award project around her interest in artistic pursuits. She planned and led an Artistic Career Fair for high school students considering careers in artistic fields. She recruited professionals representing many different fields, including interior design, graphic design, architecture, fashion design, media production, marketing, photojournalism, makeup artistry, art therapy, and textile design.
The Artistic Career Fair was held at Charlotte Catholic, and students from four different high schools, as well as home-schooled students, attended the event.
She then created a website, www.artisticcareerfair.weebly.com, and a project planning guide, so that others could plan similar career fairs for their high schools or communities.
Kelsie Roper chose to use her Gold Award project to address several escalating issues: the decreasing amount of time children are spending outside, their lack of knowledge about the sources of their foods, their lack of concern about the environment and the effects of climate change, and the rise in childhood obesity. She wished to give children the same opportunity she had as a child to be around and work with nature.
She created a Garden Club at St. Gabriel School, where she attended elementary school. She built high-quality raised garden beds in a sunny corner of the playground behind the school, and planted several different kinds of flowers and vegetables. She provided seeds, information and gardening instructions to the families of the children in the club.
She then established a curriculum on the science of gardening, the practice of eating well, and the effect of our actions on the environment. Garden Club meetings involve expanding local lessons learned to a global scale.
She inspired the club members to take small steps every day to do their part to save the planet and help the world. In addition to working with St. Gabriel children, she shared her knowledge and curriculum with five local public elementary schools.
She spent more than 80 hours on her Gold Award project, and also received a Certificate of Recognition from Sen. Tillis.
"I am extremely impressed with the Gold Award projects completed by Sarah, Taylor, Caroline and Kelsie," said Principal Kurt Telford.
"Their desire to help our community and make our world a better place is exemplary. We are proud of their ideas, their efforts, their longtime commitments to Girl Scouting, and of course their achievement of their Gold Awards."
— Carolyn Kramer Tillman. Photo provided by Robin Fisher