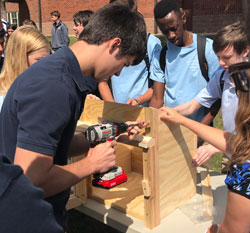 KERNERSVILLE — North Carolina author and retired news anchor Cameron Kent kicked off the first day of school Aug. 24 at Bishop McGuinness with a school-wide assembly to discuss his book, "Road to Devotion," which was a selection from the school's annual summer reading program.
This year the theme of summer reading was entitled, "Home Grown," reflecting the selection of 13 books by North Carolina authors. The entire school community individually chose one of the designated books to read and journal over the summer.
On Aug. 28 an entire day was scheduled for book group discussions, learning service and an assembly with North Carolina author James Dodson who shared his book, "Final Rounds."
The Bishop community celebrated in the courtyard of the school with a catered barbecue lunch and a bluegrass band. Each book group built a little library as a service project. The little libraries will be placed in various locations around the community.
— Kimberly Knox