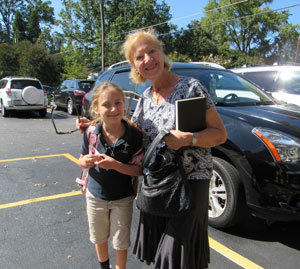 GREENSBORO — With rapt attention, Our Lady of Grace students listened to the story of Stefanie Seltzer, a Jewish child survivor of the Holocaust. The grandmother of OLG fourth-grader Aviva LeWinter, Seltzer spoke to the students on Sept. 26 and 27.
In her talk, Seltzer told students of the extreme hardships and heartbreaks she endured as well as the atrocities she witnessed. Seltzer was just 1 in 1939 when Poland was invaded, and she and her extended family were forced into a ghetto. When Seltzer was 3, her mother arranged for her to go into hiding. She lived in seven different hiding places – often taking on a false identity. By the time they were liberated, only her mother and two other family members from the ghetto had not been murdered. Seltzer lived in a displaced persons camp and then in Vienna, Austria, after the war, before coming to the United States in 1952.
In 1988, Seltzer founded the World Federation for Jewish Child Survivors of the Holocaust and Descendants to help individuals and their families cope with the horrific events in their pasts. Seltzer noted that children experienced the Holocaust in a different way than adults and that finding other child survivors helps validate memories — something they couldn't find in the groups that were geared toward older survivors.
At the end of her talk with the middle school students, Seltzer enumerated the kind acts she experienced during the dark times, such as a woman who shared her ration card and a German man who protected her. She praised the Our Lady of Grace students for their thoughtful questions and left a message of hope with the group: "Even when human-ity is at its worst, there is always light to be found."
— Annie Ferguson, Correspondent