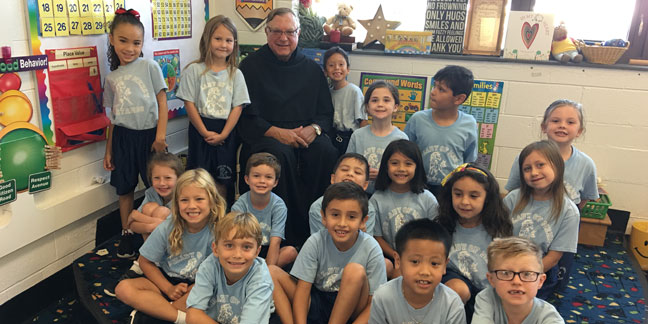 WINSTON-SALEM — Anniversaries are great moments in our life when we take a little time to remember the past and the present and what gifts have been given to enhance our life. Our Lady of Mercy School is celebrating its 60th birthday. Sixty years of educating both Catholic and non-Catholic students... what a feat for any institution in our age!
From its humble beginnings located on South Main Street in Winston-Salem and now located on Link Road in the former Bishop McGuinness High School, the parishioners pulled together to have a Catholic school in their parish. So many parents and grandparents have given generously over the many years to its upkeep, tuition assistance, and to the general giving campaigns to make Our Lady of Mercy School great.
Pictured: Father Carl Zdancewicz, OFM Conv., pastor of Our Lady of Mercy Church in Winston-Salem, is pictured with second-grade students at Our Lady of Mercy School this year. (Photos provided by Our Lady of Mercy School)
Every week I venture down the first-floor school hallway and review the artwork, and history and science projects located on the bulletin boards. I can see the progress of the younger students as they grow in wisdom and knowledge. The dedicated teachers of our parish school, over the years, have been its greatest shining light. These men and women choose to work (or should I say minister) in the Catholic school setting. The Sisters of St. Joseph of Philadelphia have been and are the leaders of our school. I hope some of you can remember the good sisters teaching us how to write, do arithmetic, and begin our quest for knowledge in the sciences.
I have experienced Catholic education from the very beginning of my academic life until I received ordination and my masters degree in counseling and psychology. Even to this day, I still remember most of the sisters and priests who taught me throughout my educational journey.
Our Lady of Mercy Parish was first in the hands of the diocesan priests and then given over to the care of the Conventual Franciscans. Our current location on Link Road provides a beautiful school building and campus for our students to thrive in. Our classrooms are bright with dedicated rooms for music, art, Spanish, technology and science lab. The gym is a state-of-the-art facility. The track and soccer field provide for many outdoor activities.
Students participate in weekly school liturgies as readers, singers and altar servers. Our religious education is enhanced by our students learning the practical life experiences described via the opening of the Scriptures and the homilies given by the friars. The point of religion is to create a foundation of core values and morals that guide us throughout our entire lives. Catholic schools produce well rounded, dedicated individuals who excel in serving the common good of any community.
For all the above we can shout to the heavens: thank you, God, for Our Lady of Mercy and its many gifts.
— Father Carl Zdancewicz, OFM Conv., Special to the Catholic News Herald. Father Carl Zdancewicz, OFM Conv., is pastor of Our Lady of Mercy Church in Winston-Salem.
History of Our Lady of Mercy School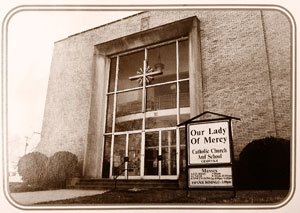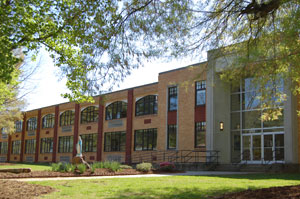 Our Lady of Mercy Parish, located on the south side of Winston-Salem, was established in 1954, and from its earliest days a parish school was a priority.
On Sept. 22, 1957, Bishop Vincent Waters dedicated the parish building, containing a church which was in the basement of the structure, an auditorium on the second floor and the parish school. Present at the church's dedication was the Right Reverend Michael J. Begley, later the first bishop of the Diocese of Charlotte. At this time, the Sisters of St. Joseph from Chestnut Hill, Pa., staffed the school.
The parish was expanded in 1967, during the tenure of its fifth pastor, Monsignor Lawrence Newman, who was a proponent of Catholic schools. He worked to increase the number of Catholic students and was responsible in the enrollment of 340 students into what was limited quarters for the school. To hold the overflow, four trailers were brought in, and the auditorium stage, sacristy, and basement of the convent were also re-purposed for the growing school.
In 1984 the school's first lay principal, Sandra McMonagle, was hired by then pastor Father Edward Sheridan. Three Sisters of St. Joseph continued to teach at the school, while two other sisters ministered at the parish in religious education and social services.
In 1987 Father Canice Connors, OFM Conv., and a small group of Franciscan friars began their mission at Our Lady of Mercy Parish.
Our Lady of Mercy celebrated a milestone on Jan. 15, 1989, when Bishop John Donoghue dedicated the Monsignor Newman Center, housing three classrooms and various offices and rooms in honor of Monsignor Lawrence Newman.
On Nov. 22, 2002, the school moved from its Banner Avenue location to a renovated building on Link Road that once housed Bishop McGuinness High School.
From 2003 to 2006 the school continued to grow, with more classes and a pre-kindergarten added. McMonagle retired in 2006 after 22 years of leadership and was succeeded by Cheryl Zuiker. Sister Geri Rogers, SSJ, has served as principal since 2007.
As it continues to grow, Our Lady of Mercy School has developed a regional flavor with students coming from many neighboring parishes. In the days ahead, it hopes to carry on the past tradition and develop an even brighter future.
— Our Lady of Mercy School