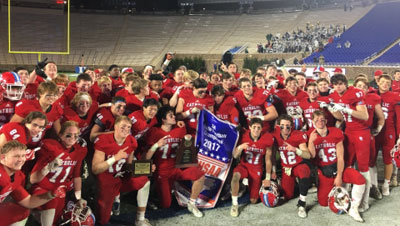 CHARLOTTE – Charlotte Catholic High School is proud to announce that its fall sports season has concluded with one individual and two team state championships.
CCHS Women's Tennis brought home both the North Carolina 3A team title and the 3A individual title in singles last month. Last weekend, the Varsity Football team won the 3A title by defeating Havelock High School in the championship final.
The CCHS Women's Tennis Team members, Carly Barhorst, Lizzy Fiepke, Rose Kenny, Morgan McElhaney, Domenica Merino, Catie Nelson, Caroline Prendiville, Logan Stuckey, and Abigail Tyson, capped off an extremely successful season with their state championship win. They defeated East Chapel Hill High School in the final dual-team match and concluded their spectacular season with a record of 22-3.
In addition to the team win, sophomore Rose Kenny won the singles title in the 3A Women's Individual Tennis State Championships. She was named the Southern Carolina Conference Player of the Year, and veteran coach Jo Cabana is the Southern Carolina Conference Coach of the Year.
"This season was really special, particularly for our seniors," said Coach Cabana. "They suffered defeats in the state semifinals during the last three years, and to get back to the finals and win meant a lot to these girls."
Fiepke was named Most Valuable Player, and McElhaney won the Sportsmanship Award. Kenny's singles championship was not easily won, as she had to beat the 2016 runner-up and the 2016 champion in order to earn the title.
"The key to their success was senior leadership and teamwork," continued Cabana. "We began the season with three straight losses, all close matches that we lost 4-5. We then won 22 straight matches, and five of those also were close ones that we won 5-4. I couldn't be more proud of these girls. All of them are first-time state champions."
This is Catholic's first state championship in tennis since 2012, and Cabana's 7th championship overall. CCHS previously won women's tennis titles in 1989, 1990, 1991, 1992, 2001, 2004, 2007, 2009, 2010, and 2012.
The CCHS Varsity Football team was undefeated in its first season in the Southern Carolina Conference, and advanced through the 3A state playoffs to the championship game, played at Wallace Wade Stadium in Durham on Saturday, December 9th. Milan Howard rushed for 160 yards, and Lamageá McDowell ran for 72 yards and two touchdowns as the Cougars won 28-14 on a snowy day. Paul Neel scored the Cougars' first touchdown of the game on a pass from quarterback Christopher Walton, who also scored a touchdown on a one-yard keeper. The Cougar defense held Havelock to just 67 yards rushing and dominated the time of possession.
"Ball possession was key in this game," said Athletic Director Kevin Christmas. "We had possession of the ball 31 out of 48 minutes in the game."
"In order to win state championships, you have to play good defense," noted head coach Mike Brodowicz. "All of our past state championship teams have held opposing teams to well under their scoring average. Havelock averaged 56 points per game, and we held them to 14."
"With great defense and great offensive ball control, we kept their offense off the field, which was key to winning this state championship," Brodowicz continued.
Howard was named the game's Most Valuable Player, while McDowell took team offensive MVP honors. Chase Foley, with five tackles and four assists, was named the team's defensive MVP, and will play in the Shrine Bowl on December 16th.
The Cougars finished the season with a perfect 16-0 record. The championship is Catholic's fifth state football title, and the second under Brodowicz. The Cougars also won in 1977, 2004, 2005, and 2015.