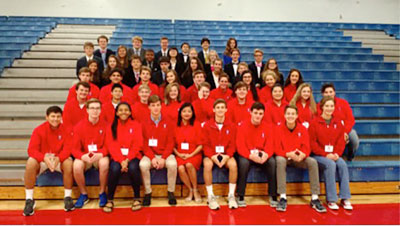 CHARLOTTE — The Charlotte Catholic High School Debate and Speech Team has earned more accolades from the National Speech & Debate Association.
As members of the National Speech & Debate Association honor society, CCHS Debate and Speech students earn points and degrees based on competitive and service-related activities. Degrees range from the Degree of Merit, with 25 or more points, to the Degree of Premier Distinction, with 1,500 or more points.
The Charlotte Catholic chapter achieved more than 100 degrees last year, and as a result, is ranked in the top 21 percent of schools nationwide. This milestone demonstrates the high school's outstanding commitment to teaching students essential life skills, including communication, research, listening, writing and organization.
"The team showed so much growth this year, and we can attribute that to the hard work of the team officers and members," said head coach Mary Morales. "We are also grateful for the tremendous support we have received from the school administrators, staff and parents."
The National Speech & Debate Association was established in 1925 to provide recognition and support for students participating in speech and debate activities. Its mission is to connect, support and inspire individuals and schools devoted to giving middle school, high school, and college students access to speech and debate.
The 78 members of the high school's Debate and Speech Team learn to see the power of deploying rational arguments and compelling evidence. They learn the skills of researching, organizing, presenting information in a compelling fashion, and performing in public with great poise and confidence.
— Carolyn Kramer Tillman