A Catholic landmark in a peculiar location made by an extraordinary woman with a message of hope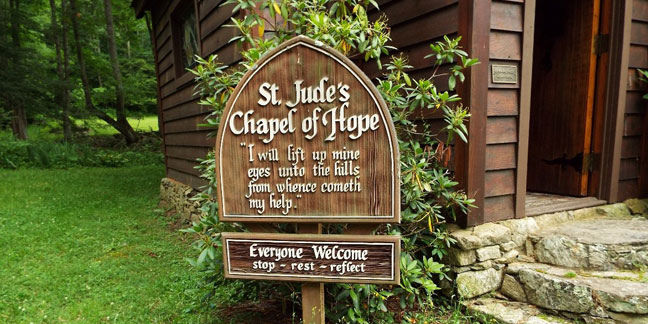 TRUST — Trust, N.C., is a blink of a town between Asheville and the Tennessee state line. Trust, where the elevation is higher than the population, is located just north of Luck in Madison County.
This little hamlet would go largely unnoticed were it not for "power couple" Beverly and Bill Barutio. It is a wonder how in a decade, from 1985 to 1995, two people could accomplish so much in their community while being retired. While Bill ran the town as mayor, he and his wife built a canning company, general store, restaurant, school, zoo, and a Catholic church, and battled cancer. Of all these accomplishments, the latter two bear the purpose of this article.
After a late stage diagnosis of non-Hodgkin lymphoma in 1981, Beverly prayed to St. Jude: "If I make it, someday I will build a chapel." After 10 years with the cancer in remission, that promise began to "pull" on Beverly.
"I am a miracle. I would sit on the steps in prayer and it was like I kept hearing God whispering like in 'The Field of Dreams,' saying, 'Build it and they will come'."
As promised, two years later, in 1992, the 12-by-18-foot chapel was designed and constructed on the property as a place for "rest, reflection and refuge" for "all of God's people."
Ten years later Beverly lost her battle with cancer, but with her passing she has left a legacy of hope, Trust and Luck within the walls of the beautiful chapel she and her husband constructed and named "St. Jude's Little Chapel of Hope."
Even though her husband Bill no longer lives on the property, the chapel remains unharmed, leaving a footprint and legacy of love and faith. When it was completed, Beverly noted, "God takes care of His own and this is all His. I built it for His children. He will provide security."
The Little Chapel is still standing and being "taken care of." There are no locks on the 150-year-old doors that had been special ordered from Europe and chosen by Beverly. There are no cracks on the stained glass windows, also hand-picked from Europe and picked up in Atlanta by Beverly. And there are no tears in the red felt lining of the unique miniature kneelers next to the carved wooden angels standing watch at the little altar.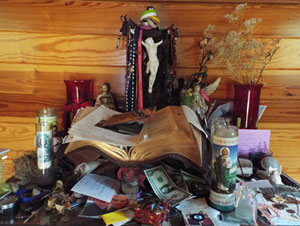 Since the chapel's opening in 1992, thousands of pilgrimage to this quiet site have shed their burdens in the form of written prayers and sacrificial items on the altar.
The altar features a Bible and a crucifix. But over the years many other unexpected items such as curled up dollar bills, wrinkled letters with tear-stained ink, photos of loved ones, burnt candles, favorite pieces of jewelry, prayer cards, and random objects of affection have appeared there as well.
People come looking for miracles, guidance and love, and they leave surpassing Beverly's thought of "If just one person comes and finds a moment's peace it has done what it is supposed to do."
Because of the little chapel's open-door policy, couples have also flocked to it as an inexpensive, beautiful place to take their wedding vows.
Among them were Sylvia and John Barnes from Gastonia, who made a road trip through Madison County early in their relationship and happened upon St. Jude's after getting a little lost on N.C. Hwy. 63. Smiling, Sylvia says, "We fell in love with this place the instant we saw it. When we walked through the doors, John and I just looked at each other and said, 'This is where we are getting married.' Ten years later and here we are!"
Whether searching for the impossible, needing some hope, wanting to tie the knot or just passing by, pass by Luck and stop in Trust to experience the peace and beauty that Beverly Barutio created at St. Jude's Little Chapel.
— Lisa Geraci, Correspondent