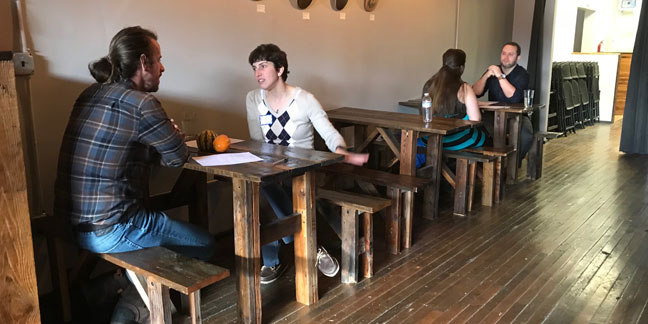 ASHEVILLE — It can be hard for Catholic singles to meet people who share their values.
To help overcome this challenge, St. Lawrence Basilica parishioner Elizabeth Harris created Asheville Christian Quick Connect events in hopes of helping others make connections with those of a similar faith background. Quick Connect is a speed-dating style event for Christian singles aged 25-45 looking to meet that potential special someone.
The second event, held at Habitat Brewing Co. Nov. 18, was an intimate group of seven participants. Last year, the event drew eight.
Harris said she hopes she can attract more people to these events and host them twice a year – in the spring and fall.
"I think it's a really good start," Harris said. "Even with the small group, I feel it's quality over quantity. Those who participated seemed to get a lot out of it."
Jake Flannick, 31, and a St. Lawrence Basilica parishioner, says he thought it was worthwhile to attend.
"I felt like I met people, even the men, that I'd like to have a friendship with," he said. "I was happy I went."
Elizabeth Spika, 28, agrees.
"The event was a lot of fun, very welcoming to all who walked in, a very nice way to spend a Saturday," she said.
"The real reason I attended was to make friends. I've been in Asheville for four months, and I've never had anyone to really hang out with. Now, I have two girl friends and a guy friend."
Spika said she's between parish homes, attending St. Eugene Church as well as St. Lawrence Basilica with a guy she met through the event.
"I feel I would definitely do it again, even just to make more friends," Spika said.
To kick off the Nov. 18 Quick Connect, married couples spoke about their relationships. Afterwards, participants divided into pairs and were given about 10 minutes to talk with each other. Harris provided a list of suggested questions – more "intentional" than basic get-to-know-you questions – such as "what does your prayer life look like?" and "how do you envision balancing marriage and having a family?"
At the end of the event, participants had the opportunity to exchange contact information. Then they enjoyed more social time to grab a bite and a drink and continue to mingle, Harris said.
Although it is open to any Christians, all but one participant at the November Quick Connect was Catholic.
"I reached out to many Christian denominations in surrounding areas," Harris said. "I've made it an ecumenical event, as Asheville has a small Christian base in our age range."
Harris brought the idea to host these events to Asheville after attending a Catholic speed dating event in Philadelphia during Pope Francis' U.S. visit.
"I'm single, and I've felt like it's difficult to meet faithful singles looking for marriage," Harris said. "I like the philosophy of dating for marriage, not to just fill a void or whatever."
The event encourages friendship, and many successful marriages start with friendship, she said.
Flannick said he was a little apprehensive to attend his first speed dating event.
"Among people in our age group here, it seems like there are few people who are religious," Flannick said. "It's hard to meet someone of the same faith."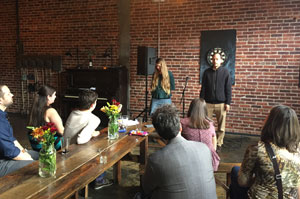 Married couples speak to participants of Asheville Christian Quick Connect at Habitat Brewing Co. Nov. 18.( Photos provided by Elizabeth Harris) While the sense of "intentionality" of speed dating made Flannick a bit uncomfortable, he said that focus also made it easier to talk with others who share his values.
The majority of the fee to participate in the Quick Connect event is donated to charity, Harris notes. This year, $80 was given to Clean Clothes for Dignity. Last year's event raised money for Homeward Bound.
"As Christians we're called to give back and be charitable," Harris said. "I like to raise awareness for different non-profits as well."
To learn more about future Asheville Christian Quick Connect events, contact avlquickconnect@gmail.
— Kimberly Bender , online reporter