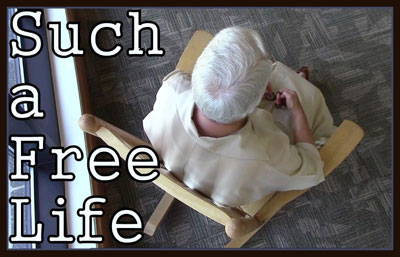 CHARLOTTE — Julie McElmurry, a parishioner of St. Gabriel Church in Charlotte, has been producing documentaries about women religious to show people what religious life is like and preserve their tales.
"My hope is that a woman will watch one of these and realize that she is called to join these women," McElmurry said.
Through her own experience, growing up around sisters in the North Carolina town of Cherokee, attending graduate school as one of two lay people, living with and near sisters and other religious, McElmurry has heard many incredible stories of faith and ministry.
"It's not an experience a lot of people have. I thought I could use my video to capture, preserve and share stories that people might not hear otherwise," McElmurry said. "This is kind of a way to give a gift back to women religious who have meant a lot to me over the years."
In 2016, McElmurry received her first $1,000 grant from the National Catholic Sisters Week to produce a documentary. National Catholic Sisters Week, a branch of the National Catholic Sisters Project, is a series of events that instruct, enlighten and bring greater focus to the lives of the women religious. This year it will be held March 8-14.
Since then she's made four documentaries, and is completing her fifth, and has received two additional grants from the same organization. Some of the titles include "Such a Free Life," which takes a look at a Franciscan monastery in South Carolina, and "Energy of Nuns," which features sisters talking about death, life and service to others, especially to the poor.
The documentaries are available online for free, have been shown at functions and screened at seven film festivals in the Carolinas, New York and even Romania and Kenya.
The Poor Clare Sisters in Travelers Rest, S.C., have one of the movies, "300 Years of Good," featured on the homepage of their website. The documentary features interviews with women religious in North Carolina and South Carolina who tell their stories of serving and empowering the poor.
McElmurry started her film endeavors in Florida a few years ago, producing promotional videos for her then-parish about the ladies guild and faith formation using basic editing software.
"The first thing I did when I found out I got the grant was I had to Google 'how to make a documentary,' McElmurry said. "I had done these other videos, but I knew I had to step up my game a little bit."
After receiving the grant, McElmurry spent two months traveling to Florida, Philadelphia and even using a planned trip to Hawaii to interview women religious.
<
She is completing a documentary about the Poor Clare Sisters in Cincinnati, Ohio, that will be shown at an event sponsored by the Archdiocese of Cincinnati in March during National Catholic Sisters Week.
These documentaries allow women religious to tell their own stories from their life.
"Their stories are so amazing," McElmurry said. "Most of the people I'm interviewing are in their 60s, 70s, 80s, and 90s even. So they're looking back on many decades of ministry.
"I want for their voices to be heard and their stories to be heard. I think a lot of people don't really know what religious life is for lots of reasons – especially life in a monastery."
People's assumptions about religious life can come especially from what they see on TV and in movies.
"To actually see the women on video where they're smiling, laughing and talking about their life, that is just very powerful," she said. "It's almost like a virtual way to introduce people to each other. Once they 'meet' the sisters, they're going to be interested in them and will want to hear their stories."
McElmurry, who also leads retreats, said she uses excerpts of some of the as a jumping-off point to reflection time. She said she hopes Catholic school and faith formation teachers will be able to use clips from these videos for classroom instruction as well.
"I want this to be a resource for people as well as to be informative and interesting to watch," she said.
To date, McElmurry has interviewed more than 60 sisters, and a couple of the women she interviewed for her first documentary have since passed away. Video footage McElmurry captures is also sent to the religious communities when she's finished editing the interviews so they can be preserved in the community's archives.
McElmurry said she's always looking for more stories to tell and more documentaries to make. She's also interested in teaching others who want to continue to do the same thing in other places.
In addition to watching her movies, McElmurry encourages everyone to think about celebrating the life of a sister this March by sending a card or baking cookies or expressing gratitude in another way.
— Kimberly Bender, online reporter
More online
Watch another recent documentaries produced by Julie McElmurry: https://youtu.be/WbngBc6_sF4
At www.franciscanpassages.com: Learn more about Julie McElmurry and her projects
At www.nationalcatholicsistersweek.org: Learn more about National Catholic Sisters Week