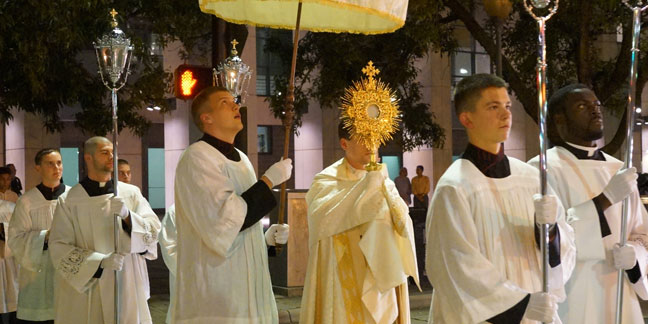 CHARLOTTE — Faithful followed the clergy of the Diocese of Charlotte Friday night in a Eucharistic procession from the Charlotte Convention Center to St. Peter Church on Tryon Street, where nocturnal Adoration was held.
A tradition in kicking off the annual Congress, the all-night Adoration in St. Peter's drew many people, including local college students.
Adoration ended Saturday morning, just before the spectacular Eucharistic procession through the streets of uptown Charlotte.
See videos from the opening night of the Eucharistic Congress
—Photos by John Cosmas, correspondent









21371127_Photo by Megan Whiteside_6622768060806940596_n (Copy)