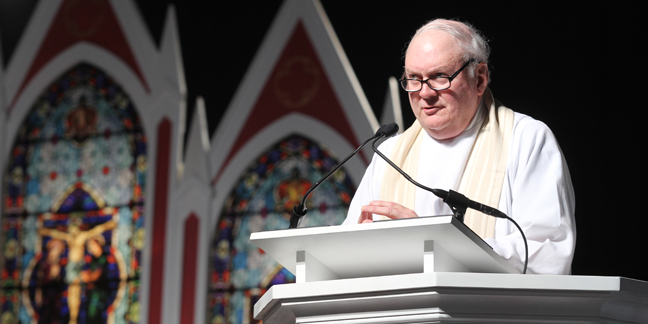 CHARLOTTE — More than 20,000 people took part in a Eucharistic procession Saturday during the Diocese of Charlotte's 13th annual Eucharistic Congress. The mile-long procession from St. Peter Church to the Charlotte Convention Center concluded inside Hall A with a Holy Hour.
Monsignor Christopher Schreck delivered the Holy Hour homily, meditating on the feast of Corpus Christi, the establishment and history of the feast in Western Europe, and the ongoing significance of Eucharistic Adoration in the life of the Church.
"Do this in remembrance of me," Monsignor Schreck quoted from the Gospel passage proclaimed at the start of the Holy Hour.
Remembrance means the calling to mind of Christ's sacrifice – His passion, His death and His resurrection, Monsignor Schreck said.
He recounted how the rapidly growing popularity of Eucharistic Adoration in the early life of the Church culminated in the Church's explicit establishment of the feast of Corpus Christi – the feast of the Most Holy Body and Blood of Christ.
Corpus Christi, "with its undiluted emphasis on the Sacramentum itself," offers a "festive and joyful" celebration of the sacrament after Pentecost, during the Easter season, more so than does the Mass of the Lord's Supper on Holy Thursday in Lent.
See videos from the opening night of the Eucharistic Congress
Similarly, Eucharistic celebrations such as the Diocese of Charlotte's Eucharistic Congress offer the faithful the opportunity to adore and marvel at the mystery of Christ made present in the Eucharist.
The Eucharist not only makes present Christ's past sacrifice – the moment in history when He endured His Passion and death and then rose again three days later – it also makes that sacrificial moment present today, he said.
"In undertaking this mission, the worship and celebration of this sacred sacrament, once again offers us the Last Supper assurance that before the feast of Passover
Jesus knew that His hour had come to pass from this world to the Father. He always loved His own in the world and would love them to the end," Monsignor Schreck said.
In the Eucharist, he said, "the memory of His Passion is recalled, the heart is filled with grace, and the pledge of future glory is given us."
— Patricia L. Guilfoyle, editor. Photo by John Cosmas


Photo by Doreen Sugierski