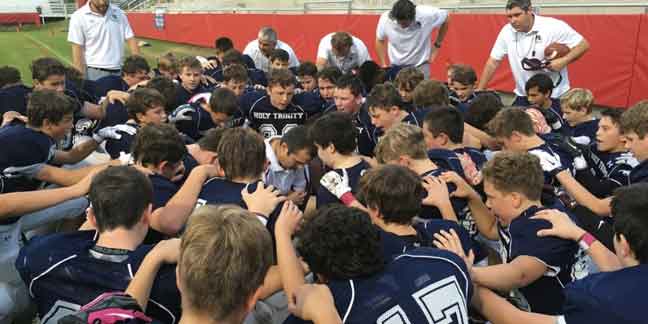 Alex Tan (center, with gloved hand on his left shoulder) is prayed over by the Holy Trinity Middle School football team and coaches during the time of his illness.(PHoto povided by Jim Alvarez) CHARLOTTE — In what has become an annual Lenten Friends faith sharing series, St. Matthew Church has produced another DVD series featuring local parishes and faith stories to bring Catholics together over the course of 40 days to grow in their faith.
Six Charlotte area parishes are participating this year: St. Matthew, St. Gabriel, St. John Neumann and St. Peter churches in Charlotte and Holy Spirit Church in Denver.
The 2017 Lenten series, entitled "The Doctor Is In…Pathways to a Healthy Mind, Body and Spirit" includes a DVD and a participant book to serve as guides. Each week, small groups reflect on and discuss select topics related to healing.
The fourth lesson in the 2017 series features Jesuit Father Jim Shea, pastor of St. Peter Church in Charlotte and his parishioners, the Tan family. The title of the lesson is "Healing through Medicine and the Sacrament of the Sick," where Father Shea shares that illness and suffering have always been a great and troubling mystery for all people, even Christians.
"Yet our faith in Christ brings us meaning, hope and courage in the face of illness," Father Shea explains. "Jesus heals those wounded in body, soul and spirit. This saving power of the whole person is the core of His ministry. Today the Church continues that healing ministry, and we are a people called and empowered by the Holy Spirit to heal."
He notes that Pope Francis imagines the Church as a field hospital, healing those wounded in the battle.
St. Peter Church parishioners, the Tan family, share about the battle they faced during their teenage son Alex's health crisis and how their faith, family, church and school communities helped them through a very trying and uncertain time.
When Alex was 14, he had a terrible headache and things quickly got worse as a mysterious illness began to affect his eye. His parents Eric and Pam recall how his left eye became completely closed, and they took Alex to doctor after doctor as his condition steadily worsened.
The pain became so great, Alex could not eat or go to school and prescribed steroids caused him to gain 40 pounds.
"I was up all night praying any prayer I could think of," Pam says. "Just to heal my son and to give me some answers."
The local community came together and prayed for answers to the medical mystery. Finally, a diagnosis of orbital pseudotumor was made but Alex did not respond to treatment, so he underwent brain surgery to obtain tissue for testing.
The Tan family prayed for the doctors, and weeks of testing on the tissue confirmed the original diagnosis. Alex began a regimen of stronger steroids and his family and prayer warriors began a nine-day novena for his healing.
His school, Holy Trinity Middle, prayed the prayer aloud with the morning announcements every school day during the novena.
"They all put their hands on me and (were) praying, which was pretty cool," Alex says, recalling how the football team and other students came together to pray over him during that time.
In a private setting at St. Peter Church, Father Shea gave Alex the sacrament of the anointing of the sick.
Now Alex is healed of his illness and is in high school.
"I'm more grateful for every single day, because when you wake up you really don't know what the next day brings," he says.
Pam says she now has a much stronger relationship with God than she ever did before. Her son's illness drew them all closer to God.
"It's a test of faith," Eric shares. "I think you've got to believe that there is a reason for everything that happens. We're just going to follow the path and do everything we can and lean into God. That's the time you really lean into Him."
For more information about the Lenten Friends DVD series, go to www.lentenfriends.org
— SueAnn Howell, Senior reporter. Lentenfriends.org contributed to this article.