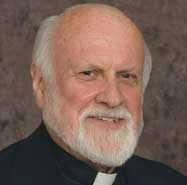 CINCINNATI, Ohio — Father August "Gus" Guppenberger, 81, a native of Batavia, N.Y., and a Glenmary Home Missioner for 59 years, died Nov. 6, 2016, in Cincinnati, Ohio.
Father Gus brought his outgoing personality to missions and ministries in five states: Ohio, North Carolina, Texas, Georgia and Kentucky. Along with his ministerial efforts, Father Gus was known for his white beard and a joyful demeanor that allowed him to play Santa Claus for children each winter.
Father Gus was a man who bestowed and received the joy of the Gospel," Glenmary president Father Chet Artysiewicz said. "He delighted that he was able to elicit joyful responses through his Santa Claus portrayal. And throughout his travels, the people and customs he encountered touched him with joyful gratitude."
Reception of the body will take place at 4:30 p.m. Monday, Nov. 14, 2016, at Our Lady of the Fields Chapel, 4085 Glenmary Trace, Fairfield, Ohio. Visitation will follow, and a wake service will begin at 7 p.m.
The Mass of Christian Burial will be celebrated at 10 a.m. Tuesday, Nov.15, 2016, at St. Matthias Church, 1050 W. Kemper Road, Cincinnati, Ohio.
Father Gus professed his first oath as a Glenmarian in 1957 and was ordained a priest in 1961.
His pastoral year was served in Buck Creek, N.C. From there he became part-time (and later full-time) associate pastor in Dahlonega, Ga. In 1963 he became associate pastor in Statesboro, Ga., and late in 1964 he returned to Cincinnati to work in promotions.
After a time in Jefferson, Texas, as associate pastor, Father Gus was named pastor of St. Mary of the Woods mission in Franklin, Ky., on April 1, 1966. He was called back to serve in Cincinnati for a time in promotions and as local superior, but returned to Franklin from 1972 until 1975.
His next pastorate was at Holy Redeemer Church in Andrews from 1976 to 1986. He then administered parishes in West Liberty, Ky., and Waynesboro, Ga., before becoming pastor of the Waynesboro mission in 1987. Father Gus served as associate pastor in Cleveland, Ga., in 1989. He also served in Sylvania, Ga.
In 1990 he returned to Cincinnati to serve in the mission office. For years after serving in this capacity, Father Gus held the record for most mission appeals by any Glenmary missioner. From 1998 until 2004 he served as assistant house director of the Glenmary residence. His last assignment before taking senior membership in late 2004 was as Mission Cooperation Program Coordinator for the Mission Education Ministry Office.
Father Gus was the sixth of seven children born to August and Mary Guppenberger. His parents preceded him in death. He is survived by brothers Francis (Carol), James and Joseph Guppenberger; sisters Mary (John W.) Yunker, Helene (Bob) Beuler, Lois (John) Gringer and Barbara Guppenberger; fellow missioners and friends.
Memorials may be made to Glenmary Home Missioners, P.O. Box 465618, Cincinnati, Ohio 45246, or at www.glenmary.org.
— Catholic News Herald