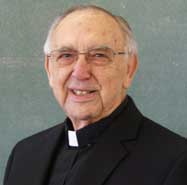 MAGGIE VALLEY — Deacon Gerard (Jerry) Peter LaPointe Jr., 83, died Dec. 18, 2016.
A funeral Mass will be celebrated at 11 a.m. Friday, Dec. 23, 2016, at St. Margaret of Scotland Church in Maggie Valley with Father Joshua Voitus officiating.
The family will receive friends from 6 to 8 p.m. Thursday, Dec. 22, 2016, at Garrett Funerals and Cremations in Waynesville.
A Mass will be celebrated with the family in Florida at a later date.
Deacon LaPointe was born in Franklin, N.H., on Feb. 12, 1933, to the late Gerard P. Sr. and Lillian Trottier LaPointe.
Together with recently deceased brother-in-law, John Weeks, he was co-owner of LaPointe and Weeks Texaco until he opened LaPointe and Sons Auto Body Repair. He retired in 1985 and moved to Maggie Valley, where he enjoyed woodworking, building hot rods, restoring antique cars, and living in his creekside cottage in Maggie Valley.
He was a retired deacon in residence at St. Margaret of Scotland Church in Maggie Valley. He was ordained for the Diocese of Charlotte on March 9, 2001, at St. Margaret of Scotland, the same parish he served for almost 16 years.
His service to his parish community, his local community and the diocese gives testimony to his love for God and all those he served. He will be greatly missed, and his ministry will have a lasting presence for all those he served.
Besides his parents, he was preceded in death by his wife, Lorraine LaPointe.
He is survived by his sons, Michael and Peter; his daughters, Christine, Marlene, Lisa and Alicia; his sister, Eileen Weeks; his grandchildren, Matthew, Erica, Danielle, Michael, Nikaela, Katie and David; and his great-grandchildren, Kendall, Jordan and Amelia.
Garrett Funerals and Cremations of Waynesville was in charge of the arrangements.
— Catholic News Herald