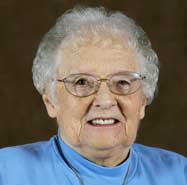 BELMONT — Surrounded by a small group of Sisters, Mercy Sister Mary Bernarda Hoff died peacefully on Friday, Jan. 27, 2017, at Marian Center in Belmont after a lengthy illness. Sister Bernarda was a Sister of Mercy for 71 years and would have celebrated her 92nd birthday on Feb. 1.
A Mass of Christian Burial will be celebrated at 11 a.m. Tuesday, Jan. 31, 2017, at Cardinal Gibbons Chapel in Sacred Heart Convent, Belmont. Interment will follow at Belmont Abbey Cemetery.
Peggy Eva Hoff was born in Greensboro on Feb. 1, 1925, the daughter of Leon Calvin Hoff Sr., and Lucille Estell Garrett, also of Greensboro.
In 1942 she graduated from Greensboro High School and entered the nursing school at St. Leo's Hospital, obtaining her R.N. degree in 1945. She later also earned a bachelor's degree in psychology from Sacred Heart College in Belmont, but her lifelong ministry was in the healthcare profession.
On Sept. 1, 1946, she entered the Sisters of Mercy in Belmont, taking the name Sister Mary Bernarda a year later. She professed perpetual vows on Aug. 16, 1952, and began her ministry at St. Joseph's Hospital (later Mission/St. Joseph) in Asheville, where she served until 2001 – nearly 50 years in service to the people of the Asheville area.
Sister Bernarda retired from the hospital to Sacred Heart Convent in Belmont in 2001 but continued volunteer work, particularly at Catherine's House, a shelter for women in transition, until she could no longer serve in active ministry.
Sister Bernarda leaves behind wonderful memories of her complete commitment to mercy, and of her exceptional talent as a dancer – everything from ballet to ballroom dancing and clogging.
Long ago she chose "Domine, non sum dignus" ("Lord, I am not worthy") as the motto in her ring. On Jan. 27, God said, "You are indeed worthy. Come home." And she did!
Memorials to the Sisters of Mercy may be made in Sister Mary Bernarda's honor and sent to 101 Mercy Drive, Belmont, NC 28012.
McLean Funeral Directors of Gastonia was in charge of the arrangements.
— Catholic News Herald