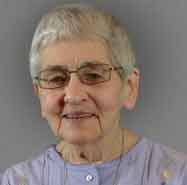 SAINT MARY-OF-THE-WOODS, Ind. — Sister Rose Marita Riordan died March 19, 2017, in Lourdes Hall, on the campus of the Sisters of Providence in Saint Mary-of-the-Woods, Ind. She was 95.
The Mass of Christian Burial was celebrated March 24, 2017, by Father Daniel R. Hopcus. Burial was in the cemetery of the Sisters of Providence in Saint Mary-of-the-Woods.
Margaret Mary Riordan was born in Chicago on May 2, 1921, to Patrick V. and Kathryn Ryan Riordan.
She entered the Congregation of the Sisters of Providence on Jan. 5, 1939, and professed final vows on Aug. 15, 1947, taking the name Sister Rose Marita.
She earned a bachelor's degree in education from Saint Mary-of-the-Woods College and a master's degree in education from Indiana State University.
In her 78 years as a Sister of Providence, she ministered in education for 49 years in schools in Indiana, California, Washington, D.C., New Hampshire and North Carolina. She served as principal for 15 of those years, including principal at the former St. Joan of Arc School in Asheville from 1977-1980. She also served at Our Lady of Consolation School in Charlotte from 1980 to 1982.
In the early 1970s, she took a leave from teaching to serve for five years in administration at the Motherhouse Health Care. In 1991 she moved to the motherhouse and volunteered at the Woods Day Care/Pre-School for 15 years, where she present each day at 6:30 a.m.
Deemed by her sisters as "the energizer bunny," she was active until just a few weeks before her death, giving service in a variety of areas, including receptionist at Providence Spirituality and Conference Center. In the last month of her life, she was still baking bread which was sold at Linden Leaf Gifts. All her service was rendered with a calm demeanor, a generous heart, and real concern for the needs of others.
She was preceded in death by two sisters, Rosaleen Gibbons and Bernadette Vicha, and two brothers, John and James Riordan.
She is survived by a brother, Bill Riordan of LaGrange Park, Ill.; and two sisters, Eileen Quinn of Walpole, Mass., and Alice Jenkinson of Cary, Ill.
Memorial contributions may be made to the Sisters of Providence, 1 Sisters of Providence, Saint Mary-of-the-Woods, IN 47876.
DeBaun Funeral Homes and Crematory in Terre Haute, Ind., was in charge of the arrangements.
— Catholic News Herald