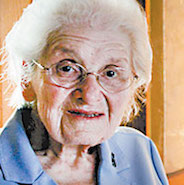 Sister Jeanne Marie KienastBELMONT – Sister Jeanne Marie Kienast, a Sister of Mercy and a distinguished citizen, died on Wednesday, Dec. 23, at CMC Pineville-Mercy Hospital after a very brief illness.
Sister was born in Port Au Prince, Haiti, on April 2, 1927 to Charles and Sarah McGurk Kienast and was given the name Eileen Virginia. She received her elementary education in Bradenton, Florida and completed her high school at the former Sacred Heart Academy in Belmont, NC.
Wake and visitation will be held 7 p.m. Tuesday, Dec. 29 at Sacred Heart Convent, Belmont, NC.
AMass of Christian Burial will be celebrated 10:30 a.m. Dec. 30 at Sacred Heart Convent. Interment will follow at Belmont Abbey Cemetery.
As a student at Sacred Heart she was inspired by the compassion and understanding of the Sisters and their life style touched her deeply. As a result she was attracted to this way of life and upon graduation she became a Sister of Mercy and chose to be called Sister Jeanne Marie.
Early in her religious life she became interested in education and earned a Bachelor's Degree in English from Belmont Abbey College and a Master's Degree in Education Administration from UNC, Chapel Hill.
Sister Jeanne Marie was a pioneer in Catholic education in North Carolina and her ministries were varied but always reflective of her ability to serve as teacher, administrator and innovator.
Throughout her 70 years of ministry she fulfilled many roles. She served as an elementary school teacher and administrator in Catholic schools throughout North Carolina, Theology professor at Sacred Heart College, Director of Formation for young Sisters, Dean of Student Affairs at Sacred Heart College and Charlotte Diocesan Director of Religious Education. In most of these ministries she revised and implemented programs to educate persons to meet their fullest potential.
When the Sisters were asked to minister in post-war Guam Sister Jeanne Marie volunteered to go and she worked with the school system there for three years helping to upgrade the schools that had been damaged and retarded as a result of the Japanese occupation of the island. Sister Jeanne Marie served as the first principal of St. Gabriel School in Charlotte and under her supervision the school grew and flourished to become the fine institution it is today.
While functioning in these various ministries Sister Jeanne Marie continued to be involved in larger ways by presenting spiritual workshops and retreats throughout the state. When she herself was not planning workshops she graciously responded to requests from groups to have her speak or be a part of their program.
The Sisters of Mercy recognized Sister's leadership ability and appointed her to a variety of administrative positions in the religious community. Along with her work with the Sisters of Mercy she was involved in the Cursillo Movement for many years. Sister was instrumental in the early formation of active Mercy Association and she served as Co-Director of this group which has grown decidedly under her leadership.
After so many years of involvement in education and in keeping with her pioneer spirit, she responded to the pastor's invitation to serve as the first Pastoral Associate at the new St Matthew Catholic Church in Charlotte. In this role Sister Jeanne Marie was responsible for many areas of ministry. She became the Coordinator of Outreach Ministries to Those with Special Needs; a vocal and active advocate for senior citizen groups, particularly for those working to lower the cost of medicines for those on fixed incomes.
In an effort to address homelessness she co-partnered with the Salvation Army and the Charlotte Housing Authority to establish Supportive Housing Initiative Partnership a group working to provide independent living for homeless families. Her days were busy providing pastoral care training for volunteers, visits to the sick and home-bound, and just being a compassionate presence for those who needed assistance and a listening ear.
Sister Served as a member of the National Catholic Educational Association and as Secretary of the National Diocesan Religious Education Directors. In 2015, based on her years of work providing housing for the homeless she was nominated as one of Charlotte's most influential women.
Sister Jeanne Marie was a consummate story teller and keeper of the early history of the Sisters of Mercy in the South. At the time of her death she was in the process of writing human interest stories about the Sisters of Mercy and their history for future generations. She was noted for her quick- wittedness and her inveterate use of puns.
Sister Jeanne Marie left her footprints everywhere she served and is remembered as a devoted Sister of Mercy, an impeccable teacher and administrator and a spreader of joy.
Sister Jeanne Marie is survived by the Sisters of Mercy, her dear friend Sister Therese Galligan, brother Charles Kienast of Kinston, NC and several nieces and nephews.
Memorials may be directed to Sisters of Mercy, 101 Mercy Drive, Belmont, NC 28012.
Arrangements entrusted with McLean Funeral Directors, Belmont.