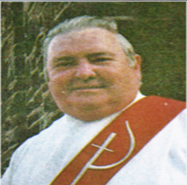 WINSTON-SALEM — Deacon Dennis Timothy O' Madigan, who served at St. Leo the Great Church in Winston-Salem, passed away peacefully Jan. 31, 2016, aged 82.
Loving husband, father, grandfather, uncle, brother and friend, he touched every life he met with his warm heart, gentle spirit and his ability to tell a joke like no other.
The family will receive friends and a rosary will be recited at 7 p.m. Thursday, Feb. 4, 2016, at St. Leo the Great Church. A Mass of Christian Burial will be offered at 11 a.m. Friday, Feb. 5, 2016, at St. Leo Church, celebrated by Bishop Peter J. Jugis and concelebrated by priests of the Diocese of Charlotte.
Deacon O' Madigan spent nine years at St. Columbian Seminary in Silver Creek, N.Y., then entered the U.S. Army Intelligence Branch at Fort Dix, N.J. After serving his country, he graduated from Boston College and the New England School of Law.
He spent time at Northeast Airlines before becoming director of security for Piedmont Airlines in 1972. In 1976 he became chairman of the Air Transport Association' s Security Committee.
He was the first Catholic hired into management at Piedmont Airlines coming from Boston. The job provided him great freedom for ministry and he was able to help pastors anytime day or night. "I never had a pastor I didn't like," he recalled in a 2013 interview with Deacon Ron Steinkamp for the Catholic News Herald. "They often relied on my legal training and I helped many people with legal advice and legal representation. It was a big part of my ministry."
After 22 years of service, he retired as assistant general counsel in 1989 when Piedmont Airlines merged with U.S. Airways.
In 1983, he was ordained with the first class of permanent deacons for the Diocese of Charlotte.
In his interview with the Catholic News Herald, he recalled the 1983 diaconate ordination Mass: "We were humbled by the undeserved honor" of being the first deacons ordained in North Carolina, he said. "Monsignor Anthony Kovacic, our formation director, was ecstatic as a father looking upon his children. Bishop (Michael) Begley was so welcoming, so full of love and so happy about the accomplishment of bringing a class of permanent deacons to ordination. It was a gift of God."
Deacon O'Madigan was assigned to his home parish of St. Leo, where he remained throughout his diaconal ministry. With joy he recalled how right after that ordination, Monsignor Kovacic was assigned as his pastor at St. Leo Church and he was immediately engaged in preaching and in assisting in many other ways.
"St. Leo was a great parish for me and we even had Father Peter Jugis, now our bishop, two times as a parochial vicar. He is a canon lawyer and I (am) an attorney, so we had a common bond in that regard," he said.
Deacon O'Madigan was particularly active in prison ministry, serving for more than 30 years in both his professional career and his diaconal ministry.
In 2005, he was given a certificate of appreciation by North Carolina Gov. Michael Easley for his "dedication and devotion in providing volunteer services to North Carolina's people."
Gregarious by nature – "I'm Irish, you know"– Deacon O'Madigan loved being with people, helping people and talking with people after Mass ("pressing the flesh, as they say"). He always found a way to reach out and help anyone who needed it, whether it was a family member, friend or total stranger.
Even in retirement Deacon O'Madigan continued assisting and encouraging people, which is where he found joy as a deacon. Visiting the sick at Baptist Hospital, Cursillo ministry, Knights of Columbus, legal aid – "I loved being a deacon these years," he said.
He was preceded in death by his parents, Dennis A. and Alice O'Madigan, his loving wife Diane O'Madigan, and sister Patricia Schoen.
Left to cherish his memory are his fiancée, Kathleen Simmons, sister Mary Beckman and husband David, daughter Kathleen Hensley and husband Robert Hensley, son Michael O'Madigan and wife Stephanie O'Madigan, daughter Patricia Sechrest and daughter Sharon Durham; grandchildren, Matthew Sechrest and wife Lindsay, Alix Sechrest, Megan Sechrest, Brian Hensley, Aubrey Durham and Emma Durham; great-grandson Liam Sechrest; sons-in-law Keith Durham and Richard Sechrest; and many other family members.
A very special thanks to Terry Simmons, Kathleen's daughter, for her help and care during this difficult time.
Proverbs 3:5: "Trust in the Lord with all your heart, and lean not on your own understanding; in all your ways acknowledge Him, and He shall direct your paths."
Memorials may be made in Deacon O'Madigan's name to St. Leo the Great Church, 335 Springdale Ave., Winston-Salem, NC 27104.
Online condolences may be made at www.hayworth-miller.com.
Hayworth-Miller Funeral Home of Winston-Salem was in charge of the arrangements.
— Catholic News Herald