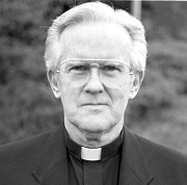 HIGH POINT — Father Bernard A. Manley Jr., 94, died Thursday, Nov. 3, 2016, at his home at Pennybyrn at Maryfield in High Point.
The Mass of Christian Burial will be celebrated at 2 p.m. Wednesday, Nov. 9, 2016, at St. Lawrence Basilica in Asheville, with Bishop Peter J. Jugis as principal celebrant. Interment will follow at Riverside Cemetery.
A prayer vigil for the deceased will held at 7 p.m. Tuesday, Nov. 8, 2016, at Groce Funeral Home, located at 1401 Patton Ave. in Asheville, after which the family will receive friends until 8:30 p.m.
Father Manley was born in Columbia, S.C. on June 12, 1922. He was the son of the late Bernard A. Manley Sr. and Mary Fae Collins Manley, and grandson of John Henry and Emma Hall Manley and Oscar Charles and Minnie Hampton Collins.
He attended Orange Street and Claxton elementary schools and was a 1940 graduate of Lee H. Edwards High School.
In June 1941, he enlisted in the U.S. Army Air Corps and served overseas with the 8th Air Force. He was discharged as a senior master sergeant in October 1945.
Following discharge, he attended the Columbia Institute of Technology in Washington, D.C., and came to work for the City of Asheville as assistant city engineer. In addition, he was appointed chief building inspector and the first traffic engineer of Asheville. In the mid 1950s he designed the first "one-way" street system in Asheville, most of which is still in effect.
He later joined the Asheville Area Chamber of Commerce and retired from there in 1983 as general manager.
He was very active in civic affairs. He was a founding board member of Mountain Area Hospice, Quality Forward and the Asheville-Buncombe Community Relations Council, as well as many other community boards.
He entered the Holy Apostles Seminary in Cromwell, Conn., in September 1983, and in 1987, at the age of 65, he was ordained a priest for the Diocese of Charlotte at St. Lawrence Basilica in Asheville.
He served at St. Patrick Cathedral in Charlotte; as pastor of St. William Church in Murphy, Immaculate Heart of Mary Church in Hayesville and St. Francis of Assisi Church in Mocksville; and as priest in residence at St. Eugene Church in Asheville. He retired from priestly ministry in July 1996.
In addition to his parents, he was preceded in death by his wife, Mary Ellen Tull Manley in 1979, and by a daughter, Rachel Faye Smith, in 2014.
He is survived by a daughter, Geraldine (Jerry) Mulder of Portsmouth, Va.; and several grandchildren and great-grandchildren.
In lieu of flowers, memorials may be made to: St. Lawrence Basilica, 97 Haywood St., Asheville, N.C. 28801; CarePartners Hospice, P.O. Box 25338, Asheville, N.C. 28813; St. Eugene Church, 72 Culvern St., Asheville, N.C. 28804; or Maryfield Resident Care Fund, 1315 Greensboro Road, High Point, N.C. 27260.
A register to offer notes of condolence can be found at www.grocefuneralhome.com.
Groce Funeral Home and Cremation Service of Asheville is in charge of the arrangements.
— Catholic News Herald