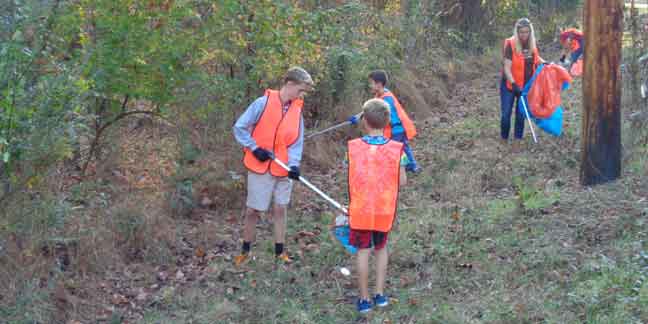 HIGH POINT — Immaculate Heart of Mary School's Environmental Club, the "Eco-Eagles," recently adopted a stream, located at the corner of Deep River Road and Hickswood Road, in north High Point, which feeds into the Deep River.
After Kelsey Burgess, High Point's storm water specialist, came to an Environmental Club meeting to discuss storm water run-off and water pollution, students voted to adopt the stream through the Keep High Point Beautiful Organization.
Storm water drains empty into streams, rivers and lakes and the Eco-Eagles want to help the environment by keeping pollution out of their community's waterways.
The City of High Point provides the supplies for the clean-ups and students are responsible for cleaning litter and debris from the stream and nearby roadway at least twice a year for at least two years. Since October, the Eco-Eagles have cleaned this area three times – finding tires, wooden cable spools, buckets, a basketball and more, filling a total of 18 bags of trash and recyclables during the clean-ups.
— Carrie Vest