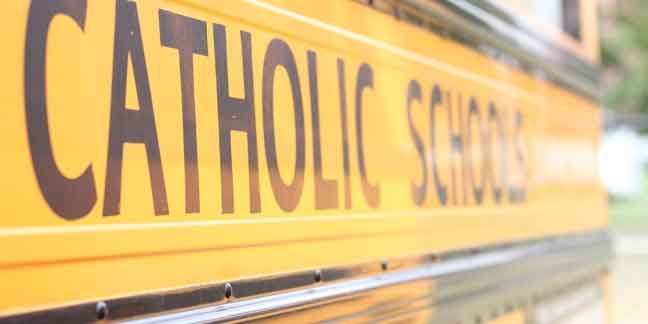 The Diocese of Charlotte School System is comprised of 19 schools operating in three separate formats:
Mecklenburg Area Catholic Schools (MACS), diocesan parish-based schools and a diocesan-based high school.
The Mission of the Catholic Schools in the Diocese of Charlotte is to proclaim the Good News of the Gospel and to provide a religious and academic program that allows each student to develop spiritually, intellectually, emotionally, physically and socially, so that each is prepared to live and serve in a changing society as a self-respecting citizen.
Find a school in the diocese:
Christ the King Catholic High School
2011 Crusader Way, Huntersville, NC 28078; 704-799-4400
www.ctkchs.org
Brendan Keane, principal
Grades: 9-12
Enrollment: 228
Student-teacher ratio: 10:1
Charlotte Catholic High School
7702 Pineville-Matthews Road, Charlotte, NC 28226; 704-543-1127
www.gocchs.com
Kurt Telford, principal
Grades: 9-12
Enrollment: 1,246
Student-teacher ratio: 15:1
Holy Trinity Catholic Middle School
3100 Park Road, Charlotte, NC 28209;
704-527-7822
www.htcms.org
Kevin Parks, principal
Grades: 6-8
Enrollment: 868
Student-teacher ratio: 14:1
Our Lady of the Assumption Catholic School
4225 Shamrock Drive, Charlotte, NC 28215; 704-531-0067
www.olacatholic.org
Allana-Rae Ramkissoon, principal
Grades: PK-8
Enrollment: 153
Student-teacher ratio: 10:1
St. Ann Catholic School
600 Hillside Ave., Charlotte, NC 28209;
704-525-4938
www.stanncatholic.org
Kathy McKinney, principal
Grades: PK, TK and K-5
Enrollment: 184
Student-teacher ratio: 18:1
St. Gabriel Catholic School
3028 Providence Road, Charlotte, NC 28211; 704-366-2409
www.stgabrielcatholicschool.org
Michele Snoke, principal
Grades: K-5
Enrollment: 559
Student-teacher ratio: 16:1
St. Mark Catholic School
14750 Stumptown Road, Huntersville, NC 28078; 704-766-­5000
www.stmarkcatholicschool.net
Deborah Butler, principal
Grades: K-8
Enrollment: 710
Student-teacher ratio: 18:1
St. Matthew Catholic School
11525 Elm Lane, Charlotte, NC 28277;
704-544-2070
www.stmattwildcats.com
Kevin O'Herron, principal
Grades: TK-5
Enrollment: 575
Student-teacher ratio: 17:1
St. Patrick Catholic School
1125 Buchanan St., Charlotte, NC 28203; 704-333-3174
www.saintpatrickschool.org
Debbie Mixer, principal
Grades: K-5
Enrollment: 261
Student-teacher ratio: 12:1
Bishop McGuinness High School
1725 N.C. Hwy. 66 South, Kernersville, NC 27284; 336-564-1010
www.bmhs.us
Tracy A. Shaw, principal
Grades: 9-12
Enrollment: 446
Student-teacher ratio: 15:1
Upcoming open house: 7 p.m. Nov. 9
Asheville Catholic School
12 Culvern St., Asheville, NC 28804; 828-252-7896
www.ashevillecatholic.org
Michael Miller, principal
Grades: PK-8
Enrollment: 168
Student-teacher ratio: 19:1
Note: Enrollment numbers are for the prior academic year or as reported by the school. Sources include the Education Vicariate's website at www.charlottediocese.org, diocesan schools staff, and the individual school websites. Student-teacher ratios are averages as reported by each school.
Open houses
MACS will hold open houses on: n Sunday, Oct. 23, from 1:30 to 3:30 p.m.
- Tuesday, Oct. 25, from 9 to 11 a.m.

Did you know?
The Diocese of Charlotte Schools welcomes students of all backgrounds, even as most of its students are Catholic and the school system strives to inculcate the beliefs and values of the Catholic Church.

Catholic: 90.7%
Non-Catholic: 9.3%

Boys: 50.5%
Girls: 49.5%

Asian: 0.5%
Black: 3%
Caucasian: 95%
Multi-race: 1%
Native American: 0.5%

By the numbers

99% of graduates of Bishop McGuinness, Charlotte Catholic and Christ the King high schools continue on to higher education.

Scholarships awarded last year:
Bishop McGuinness: $6,218,700
Charlotte Catholic: $13,184,026
Christ the King: About $2.3 million

5 essential marks of a Catholic school
1. Inspired by a supernatural vision
2. Founded on Christian anthropology
3. Animated by communion and community
4. Imbued with a Catholic worldview throughout its curriculum
5. Sustained by Gospel witness
— From: "The Holy See's Teaching On Catholic Schools," Archbishop J. Michael Miller, C.S.B.

Leadership
The diocesan school system is overseen by Vicar of Education Father Roger K. Arnsparger and led by Dr. Janice Ritter, superintendent of schools. Kathleen Miller is assistant superintendent of schools, and Jacqueline Durrett is director of educational technology and special projects.
Lay leadership is provided by an appointed diocesan school board comprised of parents, teachers and principals. MACS also has its own appointed school board.
Accreditation
All of the diocese's 19 schools are fully accredited by the Southern Association of Colleges and Schools-Council on Accreditation and School Improvement (SACS-CASI), a division of AdvancEd. AdvancEd is the world's largest education community, serving more than 30,000 public and private schools and districts across the United States and in more than 70 countries that educate more than 16 million students.
Admissions, tuition
The admissions process begins with early admissions in January and general admissions in March, continuing as space is available.
Tuition rates and fees vary by school and by grade, with diocesan parish-based schools setting their own tuition rates and MACS schools having a uniform set of rates. MACS tuition rates for the 2016-'17 year are posted online at schools.charlottediocese.net/macs/admissions/tuition.
All of the schools offer some sort of tuition discount or subsidy for registered participating Catholic families, up to 30 percent in some cases. Generally speaking, tuition amounts range from $3,600 to $10,100 for registered Catholics, with non-participating Catholics and non-Catholics paying higher amounts. Multiple child discounts are available.
For MACS schools, go to the diocesan schools' webpage, www.discovermacs.org, to learn more and download application information, or call 704-370-3273. Admission information for each diocesan parish-based school and at Bishop McGuinness High School can be found on their websites.
Prospective parents are encouraged to attend open houses at the school or schools they are eyeing.
Tuition assistance
Have you ever considered Catholic education for your children but wondered if it was within your reach? A Catholic education may be more accessible than you realize, with needs-based tuition assistance available to qualified Catholics. For details about the MACS tuition assistance program, call 704-370-3273 or go online to www.discovermacs.org/tuition-assistance.
The diocesan parish-based schools and Bishop McGuinness High School offer similar need-based tuition assistance to qualified students. Details can be found on each school's website.