Ryan Murray: Easter marks the beginning, not the end, of our journey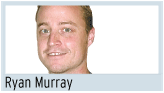 The Easter season is officially upon us and I certainly hope everyone had the opportunity to celebrate the glorious mystery of Christ's Resurrection with family and friends! Let us not forget however, that just because we celebrated Easter Sunday recently, that this journey is a beginning, not an ending.
In the weeks ahead, we will see the resurrected Jesus consistently spend time with his disciples, offering His peace to them. Similarly, now is a perfect beginning to let Jesus spend some time with us in our personal journey.
There are many times that we find ourselves much like Doubting Thomas, not fully believing that Jesus is with us and in our midst. Now, in my opinion, I think that Thomas gets a bit of a bad rap. Surely, you and I can put ourselves in his sandals – not truly believing unless we see it with our own eyes. I also feel that Thomas represents all of us. And the best part about it? Jesus opens Thomas' eyes, shows him that He is alive, ultimately forgiving Thomas and giving him a new beginning to go forth and make believers of all. Just like He does with each and every one of us.
Similarly, Jesus will visit the two disciples on a journey and although they were speaking of how Jesus was made known to them, they are both afraid when He greets them. Jesus once again shows them that He is indeed alive, and He opens their minds. There are many times when we find ourselves afraid when we don't have control of a situation or don't know exactly what's going on, much like these disciples. In reality, we are never the ones in control. When we let go for God, however, He opens up our minds in ways that we have never experienced before.
Easter Sunday is officially behind us for the year, but the road with Christ for each of us is now just beginning. A friend of mine once told me that God writes straight with crooked lines and sometimes the road is crooked as well. We may not quite believe it until we see it, like Thomas. Or we may not know what's around the bend, putting fear into our hearts like the two disciples.
However, what's important is that we have faith – faith in His plan, His way and His salvation. Because when we do, our eyes are opened, our mind is made clear and we truly begin our walk with Christ.
From my family to each one of you: Have a blessed and happy Easter season!
-- Ryan Murray is a member of St. Pius X Church in Greensboro. Have an idea or comment? E-mail him at This email address is being protected from spambots. You need JavaScript enabled to view it. .
Lives of the Saints
1
2
3
4
5
6
7
8
9
10
11
12
13
14
15
Read and listen to homilies posted regularly by pastors at parishes within the Diocese of Charlotte: