Ryan Murray: Faith can help you overcome your fear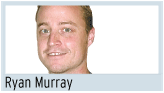 Because of a few factors recently – being busy at work (an excuse), not having time (a cop-out), having too many other things to do (an alibi) and maybe, for whatever reason, being a bit nervous (correct!) – I really haven't written much in a long while. Much like riding a bike, if you know and enjoy writing, you never really forget how to do it. However, without practice your writing can get a little sloppy. (Mind you, I never really could ride a bike all that well, but as I write this, I'm on a stationary bike. That way, no one gets hurt.)
All of this has prompted me to think about a few things – namely, fear, faith and practice. It's good to have a little bit of healthy fear as long as you have a whole lot of faith to go with it. That, coupled with the determination to practice your faith, can help you overcome your fear.
Take the sacrament of reconciliation, for example. If you haven't been to confession in a while and are thinking about going, it is perfectly fine and normal to feel a little fear. For that matter, if you went yesterday and find the need to go again tomorrow, it's also OK to have a healthy fear. But take it from someone who hadn't been to confession in a looooooong time (so long, in fact, that before I even started confessing, I had to confess I didn't remember how long it had been since my last confession) and someone who tries to go pretty regularly now – practice makes perfect. Add to that the faith that He is there, He loves you and He forgives you, and you can overcome your fear.
Maybe you haven't really taken the time to pray or spend time with Jesus lately. Maybe you worry that you don't remember how to pray. It's OK to feel that way, because the first step toward overcoming a fear is to recognize it. The best step to conquering that feeling of uneasiness? It's just like riding a bike: Get back into it, practice and have faith in knowing that you have guidance. Perhaps that guidance comes in the form of a formal prayer, Scripture or meditation. Whatever the case may be, understand that you aren't alone.
Perhaps you haven't been to Mass in a long time and you are afraid to return. You may be nervous about what others might think. Consider this, though – Jesus wasn't nervous about what others thought of Him. If He wasn't nervous, and He knew what He had to endure, then maybe we shouldn't be nervous, either. With the Easter season upon us, now is the perfect time to come to Mass, especially if you haven't been to Mass in a while. Our faith, as well as the practice of our faith, tells us that He is alive and because of His resurrection, we need not be afraid.
I am very happy to be off the proverbial stationary bike and riding a real one when it comes to writing more often. Sure, I may crash or fall down from time to time, but if (or when) that happens, I just need to get back up on that bike, keep practicing, and have faith.
Likewise, have faith in knowing that no matter what any of us may fear, this bike we are all riding truly is a bicycle built for two.
Ryan Murray is a member of St. Pius X Church in Greensboro. Have an idea or comment? E-mail him at This email address is being protected from spambots. You need JavaScript enabled to view it. .
Lives of the Saints
1
2
3
4
5
6
7
8
9
10
11
12
13
14
15
Read and listen to homilies posted regularly by pastors at parishes within the Diocese of Charlotte: