Father John Eckert: One year later, the priesthood is better than I ever imagined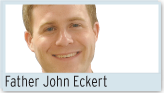 Roughly six months before my ordination to the priesthood, I stood debating with my mother and a priest friend over which image of our Blessed Mother should go on the back of my first Mass vestment. We collectively decided on a beautiful image of Our Lady of Grace and from there, the prayer, preparation and eager anticipation for the big day of ordination continued. Flash forward to the evening of June 4, 2010, the night before my ordination: gathered in the living room of Bishop Peter Jugis' residence were the bishop, the vicar general, the vocations director, the four of us men to be ordained, and our parents. As Bishop Jugis gave each of us ordinands the envelopes containing our assignments, I think each of us felt an excitement rivaled only by that of a 5-year-old on Christmas morning. I was surprised, excited and nervous to read: "By virtue of this letter, I appoint you Parochial Vicar of Our Lady of Grace Catholic Church in Greensboro, North Carolina."
Better than I ever imagined
I always knew life as a priest had to be good, I just had no idea it would be this good. Sure, it is busy; although as one of my classmates likes to say, "Busy sounds too negative; we're active." It has definitely been an active first year. Like many folks, my day begins before the sun comes up and ends after it goes down, and not just in the winter months. I rise around 5 a.m. to read the daily readings, pray my breviary and drink my coffee. After this fairly consistent routine, every day is different.
Like many parishes, Our Lady of Grace is perpetually active. As our director of religious education told me, "No priest leaves the assignment at OLG thinking, 'Well, that was easy.'" The parish has roughly 1,800 families and a school which serves 330 students from pre-kindergarten to eighth grade. What the church has in beauty, it lacks in space, so the pastor and I celebrate eight Sunday Masses each weekend.
One of my favorite aspects of this assignment is the school. At my first school board meeting, we went around the table introducing ourselves to the group. When it came around to the principal, he said proudly, "My name is Gary Gelo, and I have 330 kids in the school." From that moment on, I adopted that endearing line as my own. Having been a student in Catholic schools myself, these institutions of faith-based learning have a special place in my heart. I have spent every moment I could this year in either our grade school here at the parish or at Bishop McGuinness High School, where I serve as a part-time chaplain. I think I could probably write a book about the joy of being a priest in a school. In the interest of brevity, I will simply say that I receive far more than I could ever give in getting to be a part of so many lives.
Although it was a bit intimidating at first, another enjoyable and fulfilling part of my work in the parish has been preparing couples for marriage. When I first meet with a couple, I assure them that all that we are about to do over the next several months is for their sake, so that they might have a happy, healthy and holy marriage. Through good, honest discussions, I have been edified to see couples' relationships grow stronger, their love of Christ in the midst of their relationship taking an ever more prominent role, and I have gained many new friends along the way.
The aspect of my priesthood I appreciate the most so far is probably no surprise to any priest: I love celebrating Holy Mass. We priests are an incredibly privileged group to hold in our hands the sacramental presence of Our Lord and Savior, to preside over the mysteries of heaven and earth, and to be able to enter into these mysteries each and every day. Sunday has quickly become my favorite day of the week because of the Sunday Mass: a beautiful blend of solemnity and family reunion. High-fiving the countless children in the parish, exchanging a quick joke with some parishioners and a few kind words with others, I truly do feel like a father who loves spending time with his children, and wants them to be happy and fulfilled, living out the joy of the Gospel in a world that can be awfully difficult at times.
Challenges to the honeymoon
While I love this life and what it entails, there are certain elements that can make it a little more challenging.
There are moments when people come to the parish office with serious needs. They may be just down on their luck. They may simply need to talk. They may ask for a bit of advice or some encouragement to get back on the right path. Some require a little financial support with a specific difficult issue. When those people leave the office, I appreciate the opportunity to have helped someone in need and to have served Christ in my unfortunate sisters and brothers. Then there are other times when certain people simply seem to be "working the system." To discern which requests for help are legitimate and which are not is a difficult skill to learn. Needless to say, this is one of those areas we do not fully cover in the seminary, but is instead the kind of issue we gradually learn to address throughout our lives.
My other challenge has been presiding at funerals. Funerals are one of the great services we offer families and they are also an excellent opportunity for catechesis, but I simply have a tough time not crying, not being overwhelmed by compassion for these people who are hurting at the sting of death. While I know in the very depths of my being that Our Lord has overcome sin and death, I still cannot help imitating His reaction at the tomb of His friend Lazarus. On those weekdays when I have a funeral, my routine is to immediately follow the time mourning with those who mourn with a trip through the grade school to see the students. They never fail to cheer me up on those tough days.
A priest forever
When I wrote a year ago about 'Why I chose to be a priest,' I concluded: "Why do I want to be a priest? Because I cannot imagine a better way to spend myself fully in the service of my brothers and sisters in Christ and for the greater glory of God. I am called to the priesthood, and I look forward to a life of emptying myself, decreasing, so that He, our Lord and Savior Jesus Christ, may increase." Through the joys and the challenges, the desolations and the consolations, the developing relationships with new friends and our Savior, my conclusion from this past year proves ever truer, ever more real as I live out my vocation, the wonderful life of a priest. Praised be Jesus Christ!
Father John Eckert is parochial vicar at Our Lady of Grace Church in Greensboro. He celebrates his first anniversary of ordination on June 4, 2011. This commentary first appeared in the June issue of Our Sunday Visitor's "The Priest" magazine.
Lives of the Saints
1
2
3
4
5
6
7
8
9
10
11
12
13
14
15
Read and listen to homilies posted regularly by pastors at parishes within the Diocese of Charlotte: