Viewpoints
Deacon James Toner: Can you answer these two questions?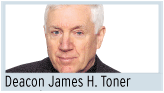 I fervently wish the news were better: abortion, embryonic destruction by "scientific research" and in-vitro fertilization, a contraceptive mentality, assault on holy matrimony, rampant divorce, unjust war, poverty and despair, morally corrosive entertainment, a social climate of increasing violence, education often uncoupled from moral instruction, a growing neo-paganism and witchcraft, indifference to or contempt for religion. Did I mention an entertainment industry which frequently undermines and scoffs at the virtues once considered to be the heart of our nation?
We Catholics are going to be busy doing two things which are at the heart of our vocation: being witnesses for Christ (Acts 1:8) and being ready to give the reason for our hope (1 Peter 3:15). We are also going to be busy, I hope, answering two questions which are all around us: in classrooms, over coffee, at water coolers, at sporting events, and after Mass.
The first question is: Shouldn't we just live and let live? What do we care, for instance, if other states permit homosexual marriage? And if others want the right to kill babies in the womb, why should we care?
The answer is as simple as it is compelling. We are supposed to be the salt of the earth and the light of the world (Mt 5:13-14). We are called to care about our neighbor and his salvation. That means that we should be faithful Catholics always and that we should "be urgent in season and out season (and) convince, rebuke, and exhort" even though some people do not want such witnesses (2 Tim 4:2-3).
There is, or should be, a virtuous circle here: Society helps to form us, but we Catholics are called upon to help form society according to the truth which will set us free. Because we care about others and because we love our country, we must be involved in speaking the truth in love, even though what we speak may not be popular. That is one of the reasons for and benefits of the sacrament of confirmation (CCC 1303).
The second question around us is: Isn't religion, at best, irrelevant or, at worst, evil? Perhaps disliking commitment, someone may choose to be "spiritual" without being "religious." Religion, after all, binds; it imposes obligations.
If I am "spiritual," I am free to do as I please, and my ego is king. But, of course, that is the point: we should be doing God's will, not our own. In fact, we should be conforming our wills to His, for only there will we find the peace that is beyond all understanding (Phil 4:7). There will be no peace, personal or political, until, as St. Augustine told us, our hearts rest in God, because He has made us for Himself (cf. Psalms 63 and 42). Germans, by the way, have a perfect word for this: "Sehnsucht," which means longing or yearning.
In his Sonnet 137, Shakespeare told us that the corruption of the best is the worst. Anything that is good, true and beautiful can be abused or corrupted. To offer a physical analogy: water is good but can drown us; food is good but can make us obese; wine is good but can inebriate us. The faith, too, has been subjected to apostasies, heresies and schisms. Murder, torture and multiple cruelties have been perpetrated in the name of religion.
During his 2006 visit to Regensburg, Germany, Pope Benedict XVI pointed out the great evil of separating reason from faith, deploring the violence which consequently often results. But those who see religion as evil rarely, if ever, have read the Holy Father's address or thought much about Blessed John Paul's similar point that "faith and reason are like two wings on which the human spirit rises to the contemplation of truth" ("Fides et Ratio" 1998). Called to love of God, some nevertheless have committed atrocity in the name of religion. Hospitals, medical and scientific research, universities and schools, charitable institutions – and, principally, the salvation of souls through Christ the King – are the proper fruit of religion as it ought to be, and, thank God, usually is.
Mother Teresa wrote: "Often you see power lines running alongside the street. Unless current is flowing through them, there is no light. The power line is you and I! The current is God! (We can) allow the current to flow through us and thus to generate the light of the world: Jesus – or to refuse to be used and, thus, allow the darkness to spread" (YOUCAT, 18-19).
Deacon James H. Toner serves at Our Lady of Grace Church in Greensboro.
1
2
3
4
5
6
7
8
9
10
11
12
13
14
15
16
17
18
19
20
LETTERS FROM OUR READERS
Warrior saints are found throughout history

Regarding the April 26 letter criticizing St. Nicholas of Flue, I am disgusted that an American would insinuate that a soldier who distinguishes himself or herself in combat is not following...

Who would be worthy?

In a letter in the April 26 Catholic News Herald, St. Nicholas of Flue was referred to as someone who "did not follow those teachings" of Christ because he defended the faith with his sword and...
1
2
3
4
5
6
7
8
9
10
11
12
Read and listen to homilies posted regularly by pastors at parishes within the Diocese of Charlotte: