Viewpoints
The Poor Clares: Let us give thanks to God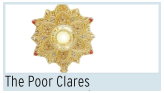 Though Thanksgiving is a secular holiday and does not appear on the Church's calendar, it holds much meaning for the life of a Christian. Just as Christmas is not about presents, Thanksgiving is about more than turkey and pumpkin pie. It is a time to count our blessings and, hopefully, to turn with gratitude to the God who has so lavished His gifts upon us.
However, too often we forget to be thankful. We turn to God and to prayer when we are lacking something, when we want something, when we are desperate. Sadly, we often forget Him when our needs are not so pressing and we are content.
The foundress of our Order of Poor Clares of Perpetual Adoration, Mother Marie Ste. Claire Bouillevaux, heard a sermon one day in 19th century France on this very topic, which captured her heart. The priest, Father Bonaventure, who was helping her to found our order, had been sick for several days. Feverish after a sleepless night, he was not able to give the sermon he had planned. Instead, he preached on a dear and familiar topic to him: the simple phrase "Deo gratias," or "Thanks be to God."
Recounting the Gospel story of the 10 lepers whom Our Lord healed, he emphasized that only one of the lepers returned to give thanks for the gift of a new-found life after the living death of leprosy had been wiped away. Our Lord did not ignore this fact. The wistfulness in His voice can almost be heard in the words, "Where are the other nine? Were not 10 healed?" The priest developed this thought – urging the congregation to give thanks with and through Jesus in the Most Blessed Sacrament. In fact, the very word "Eucharist" means thanksgiving.
Mother Marie Ste. Claire, through the inspiration of the Holy Spirit, dedicated our order to perpetual Adoration. Hearing the passionate words of Father Bonaventure, she felt deeply that nothing wounds the Heart of Jesus more than ingratitude.
Through this pivotal moment, it came about that the adoration of the PCPAs would have a particular end: thanksgiving. Our prayers would be forever offered in a spirit of thanksgiving, not only for our own blessings, but on behalf of all those who never think to thank God. Our vocation was to be a "standing in the gap," as it were, filling the void left by ingratitude.
Thanksgiving is one of the highest forms of prayer, and every Christian is called to it. "Counting your blessings" is not just a sentimental idea, it is a way of life enjoined on us by the Scriptures: "Give thanks in all circumstances; for this is the will of God for you in Christ Jesus." (1 Thess. 5:18)
A good way to incorporate this call in our life is to spend a few moments each day reflecting on the blessings that day held for us. This can easily be added to the traditional evening examination of conscience as a means to deepen our thanks.
As far as counting goes, when we really begin to think about it, we will quickly realize that our blessings are truly without number.
There are the fundamental blessings of creation, redemption and sanctification through the great gifts of the Church and her sacraments showered on us by an infinitely loving God. There are also so many little joys in life: a beautiful day, a happy surprise, the companionship of a friend. Some things are not thought of with gratitude until they are gone. How often do we thank God for our five senses?
A life of thankfulness only multiplies our benefits. Adopting an attitude of gratitude makes us joyful – turning our focus from the negative to the positive. It also fosters humility as we realize that everything is an undeserved gift.
Let us make the upcoming Thanksgiving holiday more than a hearty meal. Let us make it a true time of thankful praise and the springboard for a life of gratitude. Deo gratias!
Sister Marie Therese of the Divine Child Jesus is professed with the Poor Clare Nuns of Perpetual Adoration St. Joseph Monastery in Charlotte. This is part of a monthly commentary by the Poor Clares to focus on topics of faith and to address questions about religious life. Learn more about the community and subscribe to their newsletter by going online to www.stjosephmonastery.com.
1
2
3
4
5
6
7
8
9
10
11
12
13
14
15
16
17
18
19
20
LETTERS FROM OUR READERS
Warrior saints are found throughout history

Regarding the April 26 letter criticizing St. Nicholas of Flue, I am disgusted that an American would insinuate that a soldier who distinguishes himself or herself in combat is not following...

Who would be worthy?

In a letter in the April 26 Catholic News Herald, St. Nicholas of Flue was referred to as someone who "did not follow those teachings" of Christ because he defended the faith with his sword and...
1
2
3
4
5
6
7
8
9
10
11
12
Read and listen to homilies posted regularly by pastors at parishes within the Diocese of Charlotte: