Viewpoints
The Poor Clares: The lost art of fatherhood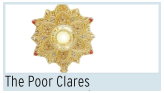 Too often in our modern day, the irreplaceable role of the father in a family has been ignored, downplayed or denied. Too many children have grown up without knowing their father, or with a father who is, sadly, neglectful of his responsibilities.
Some people focus exclusively or entirely on the role of the mother in the raising of children. But God had something very different in mind when He created the first man and woman and said to them, "Be fruitful and multiply."
The first task which God entrusted to Adam after his creation in the Book of Genesis was that of caregiver. And this role has been entrusted to every man since.
God has created men to be focused on purposeful activity, on making things, formulating ideas and goals, and bringing them to completion. This is true in their chosen field of interest, in the work they do. But this focus is most perfectly fulfilled in striving for the ultimate goal: eternal life in Heaven.
For most men, whom God has called to marriage, the key position has been given to serve as father and leader of his family. In the close-knit circle of the family, a father is to be a reflection of Christ, the Head of the Church. Here he lives out his call to be a caregiver according to the Divine Plan.
As husband and father, the man is the protector of his family. He supports his wife and children by laboring for them. Through his own exertion and the "sweat of his brow," in imitation of Christ, Who gave Himself for us, he pours out his own self on their behalf. He is responsible for guarding and defending his family not only against material deprivations, but against the wiles of the Enemy and the snares of sin. The father, through his own example of a virtuous life, does much to provide for the spiritual needs of his family. As an image of God the Father, a man can use his natural talents of guiding and cultivating to bring to fruition the seeds of grace which have been planted within his family by Our Lord.
What greater goal could there be than to lead your family to the very gates of Heaven?
The more intimate a man's own relationship with Our Lord, the more he will succeed in fulfilling this great mission.
It is obvious then, once we unpack these responsibilities, that a father is an essential figure in the family. And it follows that when these needs have not been met in the family, there is a deprivation and even a wound that causes much pain.
I once heard a story from a priest that illustrates this fact. He recounted that he had met a religious sister who worked in prison ministry. One year, shortly before Mother's Day, she brought some Mother's Day cards for the inmates in case they would like to write to their mothers. Not sure how this would be received, she was happily surprised that all the cards were quickly snatched up. Having more time to prepare, she ordered plenty of cards for Father's Day, expecting similar results. Not a single Father's Day card was sent.
Think about that.
These men were in prison for a variety of crimes. Many of them probably came from deprived or abusive backgrounds. They still had a love and respect for their mothers, regardless of what had happened in the past. But a similar respect for their fathers was missing.
Why the difference? The answer can be found in what the lack of fatherhood means in the eyes of a child.
From the first moment of conception, a child is intimately united to his or her mother. They are literally "one" for the nine months prior to birth. They are so closely connected as the mother provides for the child's nourishment and every need.
At birth, an infant is extremely self-centered. The focus is entirely on his own needs and wants. The mother continues to be really an extension of self for the child, an almost indistinguishable source of love and care.
Who is the first "other" whom the child learns to love, outside this mother/child bond? The father. The child learns that there is another human being who loves him, protects him and cares for him. He learns to move beyond himself, and to love and trust this person as his father.
Because God has chosen to reveal Himself to us as Father, here too in this budding familial relationship, the child finds his first and deepest experiences of the love of the Eternal Father.
What happens when this love is not returned, when this trust is not affirmed? The child's capacity to give of himself to another and to enter into loving relationships with others is damaged. There is a gap between the child and his own security, and most sadly, between the child and a true image of God's love.
A fatherless society quickly becomes a godless society. But it doesn't have to end this way. Fatherhood is not dead, only under attack. Being a good father is not impossible, only challenging.
Let us pray that all fathers come to realize the vital importance of their unique role in the lives of their children. Let us ask the Eternal Father for the graces needed for men to live out this awesome and indispensable vocation.
Sister Marie Thérèse of the Divine Child Jesus is professed with the Poor Clare Nuns of Perpetual Adoration St. Joseph Monastery in Charlotte. Learn more about the local community of Poor Clares and subscribe to their newsletter by going online to www.stjosephmonastery.com.
1
2
3
4
5
6
7
8
9
10
11
12
13
14
15
16
17
18
19
20
LETTERS FROM OUR READERS
Warrior saints are found throughout history

Regarding the April 26 letter criticizing St. Nicholas of Flue, I am disgusted that an American would insinuate that a soldier who distinguishes himself or herself in combat is not following...

Who would be worthy?

In a letter in the April 26 Catholic News Herald, St. Nicholas of Flue was referred to as someone who "did not follow those teachings" of Christ because he defended the faith with his sword and...
1
2
3
4
5
6
7
8
9
10
11
12
Read and listen to homilies posted regularly by pastors at parishes within the Diocese of Charlotte: