Viewpoints
Bishop Peter J. Jugis: Lack of clear conscience protection must be corrected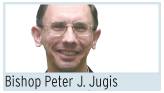 The following letter was read at all Masses during the Feb. 18-19 weekend:
Dear Brothers and Sisters in Christ,
I write to you today regarding the healthcare regulations that would require religious institutions to provide contraception for their employees. Since the HHS guidelines were released in January, a great many people in the Diocese of Charlotte have contacted my office to express their concern. More recently, President Barack Obama offered a compromise in the administration of the regulations.
Unfortunately, the compromise does not address the fundamental concern of conscience protection and religious liberty that the original regulations threaten.
The compromise retains the nationwide mandate of insurance coverage of sterilization and contraception, including some abortifacients, for all religious employers. This remains a grave moral concern.
Additionally, it appears that the regulations will still mandate that all insurers include coverage for the objectionable services in all the policies they would write. At this point, it would appear that self-insuring religious employers, including the Diocese of Charlotte, are not exempt from this mandate.
The lack of clear conscience protection for key stakeholders is unacceptable and must be corrected.
The bishops in the United States therefore continue – with no less vigor, no less sense of urgency – the efforts to correct this problem. We urgently need legislation to correct the mandate's threats to religious liberty and conscience rights. The Respect for Rights of Conscience Act has been introduced in Congress (H.R. 1179, S. 1467) to ensure that those who participate in the market for health insurance "retain the right to provide, purchase, or enroll in health coverage that is consistent with their religious beliefs and moral convictions."
As a community of faith we must commit ourselves to prayer and fasting that wisdom and justice prevail, and that religious liberty be restored. Without God, we can do nothing; with God, nothing is impossible. I ask you to visit CatholicVoiceNC.org to learn more about this severe assault on religious liberty, and to contact Congress in support of legislation to reverse the Administration's decision.
Assuring you of my prayers, and asking God's blessings upon you, I am
Sincerely yours in Christ,
The Most Reverend Peter J. Jugis
Bishop of Charlotte
1
2
3
4
5
6
7
8
9
10
11
12
13
14
15
16
17
18
19
20
LETTERS FROM OUR READERS
Warrior saints are found throughout history

Regarding the April 26 letter criticizing St. Nicholas of Flue, I am disgusted that an American would insinuate that a soldier who distinguishes himself or herself in combat is not following...

Who would be worthy?

In a letter in the April 26 Catholic News Herald, St. Nicholas of Flue was referred to as someone who "did not follow those teachings" of Christ because he defended the faith with his sword and...

St. Peregrine is a model to follow

I greatly admire the saints. The stories of youthful saints speak powerfully to me and never fail to captivate me; since I am 15, I can relate particularly to them. When I read the article about...
1
2
3
4
5
6
7
8
9
10
11
12
Read and listen to homilies posted regularly by pastors at parishes within the Diocese of Charlotte: