Viewpoints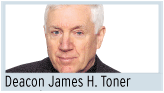 What we see in our country today is a reprise of the "Kulturkampf," a bitterly anti-Catholic political program in Prussia from about 1871 until 1880, under the direction of Otto von Bismarck. The ultimate purpose of the "culture struggle" was to destroy the public influence of the Catholic faith. Fines were levied against Catholic institutions, priests were imprisoned, seminaries were closed, and civil (not sacred) marriages were made mandatory.
Under Popes Pius IX and Leo XIII, however, the Church stood firm – as Christ's Church must always do. Catholics successfully resisted Bismarck's tyranny.
The Council fathers of Vatican II, moreover, taught with unmistakable emphasis that the Church is "at once the sign and the safeguard of the transcendental dimension of the human person." The Church must "pass moral judgments even in matters relating to politics, whenever the fundamental rights of man or the salvation of souls requires it" ("Gaudium et Spes," 76). Always we are to obey God before men.
The most pressing catechetical point of our day is explained by the Catechism in five words: "Caesar is not the Lord" (450). This truth we Catholics must now explain and expound, teach and preach, and learn and live. Understand: we are now at the beginning of a "kulturkampf" right here – not in Prussia: here. It is that serious.
In 1939, as the storms of war began to cross the European continent, Pope Pius XII wrote a powerful encyclical, "Summi Pontificatus," which speaks as urgently to us today as it did to the Church more than 70 years ago. "It is certain," the Holy Father wrote, "that the radical and ultimate cause of the evils which We deplore in modern society is the denial and rejection of a universal norm of morality." When we are cut off from the infallible teaching authority of the Church, Pope Pius wrote, we enter a space and time of moral chaos and of great darkness.
The pope quoted from the Holy Gospel, which tells us that when Jesus was crucified "there was darkness over the whole earth" (Mt 27:45). That darkness, he said, is "a terrifying symbol of what happens spiritually wherever incredulity, blind and proud of itself, has succeeded in excluding Christ from modern life, especially from public life, and has undermined faith in God as well as faith in Christ."
The Catechism tells us that incredulity is the "neglect of revealed truth or the willful refusal to assent to it" (2089).
Incredulity, "blind and proud of itself," is the intellectual mark of modern times.
In line with it, the role of the Church in society, especially in public affairs, is routinely dismissed or denigrated. Religion, we are told, is all well and good, provided that it is kept purely personal. It is perfectly fine to be religious, we hear, so long as the convictions of our faith do not spill over into public or political concerns. Our faith is regarded by militant secularists as a kind of germ which must be confined or captured by the "handkerchief" of the church building. We may worship as we choose but, increasingly, the witness of our faith is to be kept within the boundaries of the church building itself.
This is what is meant by the phrase "freedom of worship" as opposed to the "free exercise" of religion mentioned in the First Amendment. Mere freedom of worship minimizes and marginalizes the faithful and constant Christian testimony to which we Catholics are called.
Moreover, it essentially repudiates the enduring duty of the Church as the "pillar and bulwark of the truth" (1 Tim 3:15), always and everywhere commissioned by Christ to announce and to defend moral principles, to evangelize, and to serve as the Lord's witness. (See paragraphs 17 and 25 of Vatican II, "Lumen Gentium.")
We are, of course, Catholic not only at Mass – but in everything we think, say, and do; the word Catholic, after all, does mean universal. Once in Montgomery, Ala., at a Protestant place of worship, I saw a sign, visible only as one left the parking lot, which said: "You are now entering your mission field."
That sign captured the essence of Christian witness and of true freedom of religion, not just a restricted kulturkampf-style freedom of worship inside Church property and only on Sundays, or a kulturkampf-style oppression of seriously Catholic institutions.
I am reminded of another pope, Pius XI, deeply concerned about the circumstances in Mexico, who wrote an encyclical in March 1937 which, in part, said: "The Church ... cannot exist or develop if it does not enjoy liberty of action, and ... its members have the right to find in civil society the possibility of living according to the dictates of their conscience."
Certainly no Catholic medical or educational institution should ever be legally coerced or manipulated into funding, insuring, or otherwise supporting heinous practices contrary to the profoundest teachings of the faith; no Catholic doctor or nurse should ever be compelled to assist at an abortion, which is the murder of a baby; no Catholic military chaplain should ever have to refrain from speaking the moral truth in love merely because he is not then on chapel grounds; and no Catholic professor should be intimidated when he or she appropriately refers to settled Church teaching.
There are, of course, self-styled, nominally Catholic institutions which will "accommodate to the culture"; that is, they have already accepted, or they soon will accept, political demands that their benefits packages include support for practices which we know are gravely sinful. "What is all the fuss?" they implicitly ask. Many Catholics and their institutions are, in effect, saying, "Hey, what's the big deal here?"
The government is telling Catholics to betray the Catholic faith, to abrogate Catholic moral teaching, to deny (what should be) our formed Catholic consciences (and, by the way, trashing the Constitution). And they don't see that? They "look without seeing and listen without hearing or understanding" (Mt 13:13 JB; cf. 10:36 and Micah 7:6). These institutions are Catholic in name, but they abjectly apologize for it; they are sorry Catholic institutions – as opposed to being serious Catholic institutions. Any person or any institution that stands, in practice, for nothing can fall for anything.
The heart of the debate over "conscience clauses" – the right Americans should have not to participate in, let alone pay for, matters which their faith brands as evil – was understood by Pope Pius XI in 1937 and by Pope Pius XII in 1939. We are called to be children of the light, not of the darkness; we are called to be faithful witnesses at all times and places; and we are called to educate our consciences in accordance with the truth which sets us free (see CCC 1783-1785).
And the "universal norm of morality" – the Light whose witnesses we are and the Teacher whose truth illuminates our consciences – is Christ the King, whose Church must always be missionary (CCC 851).
Two sources and one quotation may prove very helpful in all this. See Archbishop Charles Chaput's book "Render Unto Caesar" and read (and consider signing) the Manhattan Declaration about the sanctity of life, traditional marriage and religious liberty. (See http://manhattandeclaration.org.)
The quotation is from Carl Schurz, the great journalist, who once gave this toast: "My country, right or wrong: if right to be kept right, if wrong to be set right." St. Thomas More, pray for us!
— Deacon James H. Toner, Ph.D., serves at Our Lady of Grace Church in Greensboro.
1
2
3
4
5
6
7
8
9
10
11
12
13
14
15
16
17
18
19
20
LETTERS FROM OUR READERS
Warrior saints are found throughout history

Regarding the April 26 letter criticizing St. Nicholas of Flue, I am disgusted that an American would insinuate that a soldier who distinguishes himself or herself in combat is not following...

Who would be worthy?

In a letter in the April 26 Catholic News Herald, St. Nicholas of Flue was referred to as someone who "did not follow those teachings" of Christ because he defended the faith with his sword and...
1
2
3
4
5
6
7
8
9
10
11
12
Read and listen to homilies posted regularly by pastors at parishes within the Diocese of Charlotte: