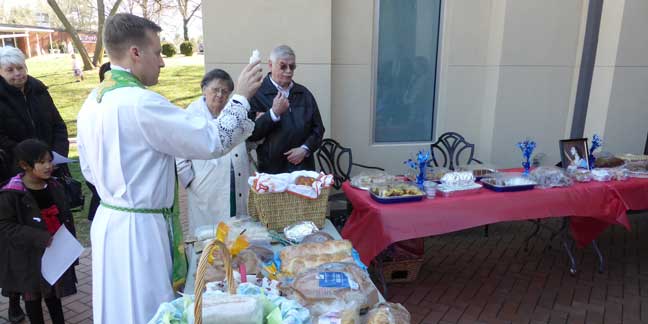 CHARLOTTE — St. Ann Church celebrated the Feast of St. Agatha Feb. 5 with a High Latin Mass followed by a special ancient blessing of bread, called Agatha bread, in honor of her martyrdom.
Father Jason Barone, priest-in-residence at St. Ann Church, blessed the bread for parishioners using the ancient Latin blessing, and the Charlotte Latin Mass Community organized a special feast of different varieties of Agatha bread prepared by parish families.
In the Extraordinary Form calendar, Sunday also marked the close of the extended Christmas-Epiphany season and to celebrate the Cantate Domino Latin Choir along with the St. Ann's Men's schola led the attendees in a wassailing song (a Christmas carol) as attendees feasted on Agatha bread, apple cider and hot cocoa.
The closing of Epiphanytide also marks the beginning of Septuagesima season, the three week pre-Lent season, which prepares the faithful for Lent which begins March 1.
For more information about the Charlotte Latin Mass Community, email Chris Lauer at This email address is being protected from spambots. You need JavaScript enabled to view it. or visit www.charlottelatinmass.org.
— Mike FitzGerald, correspondent