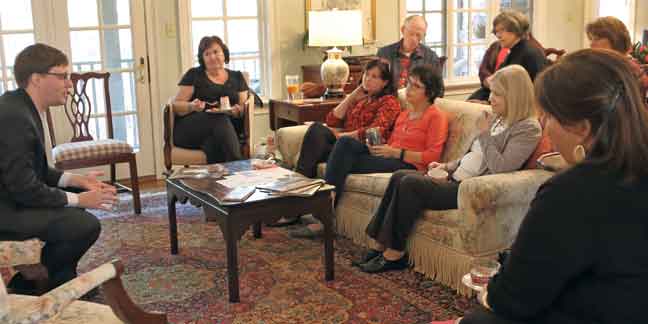 SHELBY — Philip W. Eubanks, development associate with Catholic Near East Welfare Association, recently gave a presentation about the organization at a breakfast hosted by Chrys Rivière-Blalock, a parishioner of St. Mary Help of Christians, in Shelby.
Said Eubanks, "For nine decades, the Catholic Near East Welfare Association has answered the call of the Holy Father with the specific mandate to work for, through and with the Eastern Catholic Churches – many of which grew from the first roots of Christianity.
Our work is really a vision of one God, one world, one human family and one Church. It's a response to Pope Francis' promise that we will not forget our brothers and sisters – from the Horn of Africa to Eastern Europe to the Middle East and India.
When a child in Iraq finds healing from a chronic illness, or a mother in Jordan sees her children's eyes filled with hope for the first time in months, or when an orphaned girl in Lebanon discovers new family in a teacher and in students in a classroom we support, that's really about connecting our family here with our family there as we 'build up the Church, affirm human dignity, alleviate poverty, encourage dialogue – and inspire hope.'
"I was excited to share this story in a gathering in Shelby, and I am excited to share that story with anyone who wants to hear what's happening to our family and how they're being loved and cared for in this tumultuous time."
— Giuliana Polinari Riley, correspondent