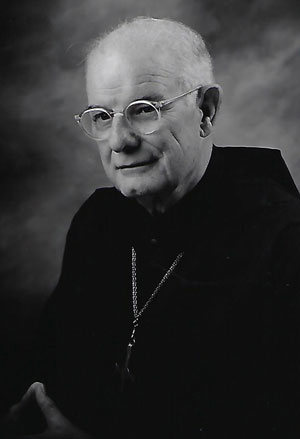 BELMONT — The Right Reverend Oscar C. Burnett, seventh abbot of Belmont Abbey, died peacefully in the Lord on Tuesday evening, Nov. 21, 2017.
His body will be received at 7 p.m. Friday evening, Nov. 24, 2017, at Vespers in the Basilica of Our Lady, Help of Christians at Belmont Abbey in Belmont. The public funeral Mass will be celebrated in the basilica at 10:30 a.m. Saturday, Nov. 25, with interment following in the Abbey cemetery.
A native of Savannah, Ga., he was the third of five children of the late Oscar Caldwell Burnett and Ellen Nell (née Wheeler) Burnett. Throughout his life, he was devoted to and proud of his family and native city. After graduating from Benedictine Military School in 1944, he served in the U.S. Army Air Force during the closing months of World War II. He earned an A.A. degree from Armstrong State College and a law degree from the Lamar School of Law at Emory University.
He practiced law in Savannah for six years before entering the novitiate at Belmont Abbey, professing his vows in 1958. He completed his seminary studies at Belmont Abbey and was ordained a priest in 1962.
At Belmont Abbey College he held a number of positions over time, including associate professor, chair of the Social Sciences Division, campus minister, member of the Board of Trustees, president and chancellor. Known by the students as "the Big O," his career as dean of students was legendary for swift discipline. He also served on two different occasions as associate pastor of St. Benedict Church and teacher at Benedictine High School in Richmond, Va.
As executive director of the Ecumenical Institute of Wake Forest University and Belmont Abbey College from 1984 to 1990, he earned wide respect and made significant contributions to ecumenical and interfaith relations in North Carolina and the Southeast.
His service to the monastic community over the years included the offices of subprior, procurator, pastor of the abbey parish, novice master and prior.
In December 1991, at age 65, when most men enter retirement, he was elected abbot for an eight-year term. At a critical time in the Benedictine community's history, he completed a full term of office, the first abbot in 40 years to do so. As abbot, there was no detail of community life too insignificant for his exacting attention. He intervened decisively in the administration of Belmont Abbey College and served for a year as interim president at no small personal cost, likely saving the college.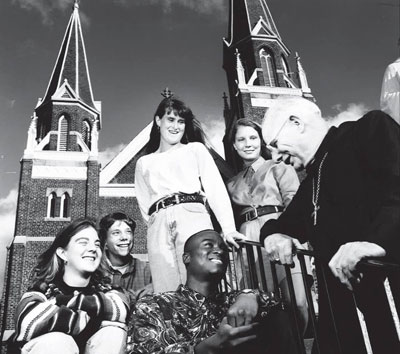 He will be remembered with special gratitude for his kindness in bringing his boyhood pastor and mentor, Benedictine Father Bede Lightner, back to Belmont Abbey for the final years of his life and having him reinstated in his monastic vows and priesthood.
After his retirement from the office of abbot in 1999, he remained at Belmont Abbey, taking the title of abbot emeritus and continuing to direct his life and activities. He served again for nearly two years as prior, and continued his service as mentor and spiritual guide for countless friends and alumni, exercising his kindness particularly through much-appreciated letters and notes.
Abbot Oscar is survived by the monks of Belmont Abbey, by his sister, Margaret Burnett of Savannah, and numerous nieces and nephews.
Each monk of the community will offer three Masses for Abbot Oscar, and the community commends him to the monks of the congregation for the customary suffrages for their deceased confreres.
Remembering Abbot Oscar – Francis Lim
Everyone should be as blessed and fortunate as I have been to have had Abbot Oscar as a mentor and friend in my life. He had a tremendous impact in making me the man that I am today. I arrived at Belmont Abbey College in the fall of 1962 as a forlorn and homesick foreign student from Singapore. Father Oscar took me under his wing and encouraged and nurtured me.
I was privileged to work alongside the "Big O," as he was affectionately known back then, as one of his early dormitory proctors, when he was the dean of students. The task was challenging because he was a strict, but fair, disciplinarian. As a sophomore, my grade in one of my premed courses slipped. When Father Oscar found out about this, he stormed into my room and gave me a stern warning about going to medical school. What he said and did are best left out, but set me straight he did.
During medical school, we kept in touch, and he was a ready and willing counsellor. When I married my wife Diana, Father Oscar officiated at the wedding. One of the proudest moments in my life was when Father Oscar stood before a federal judge and other witnesses and gave a testimony on my behalf, on the occasion of my naturalization as a U.S. citizen.
We continued to be in touch with Abbot Oscar over the years. We exchanged letters and occasional phone calls, in times of joy and sadness. We are touched by his love for his sisters, the Abbey, the students and his friends, and most of all, his love for God. His many letters contained evidence of his love for and the special relationship he had with the risen Christ.
How blessed we were to have had the opportunity to visit him at the 2016 Homecoming ! He was mentally sharp and he still had that robust, back slapping, sense of humor and laugh and we shared many memories of years past.
We thank God for his presence in our lives. We will miss him.
Sincerely,
Francis Lim, MD '66
Remembering Abbot Oscar – Dr. John Nackashi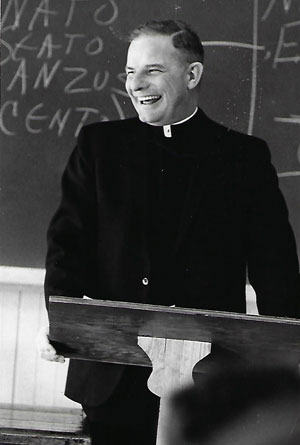 My wife Mary and I have had a 50-year relationship with Abbot Oscar. I first met Abbot Oscar, then known as Father Oscar, in 1962 as a freshman at Belmont Abbey College. Later he became the dean of students and he asked me to be a resident/dorm proctor. Over the next two years we developed a close relationship as I became the senior dorm proctor. I often called him by one of his nicknames, the "Big O," and he would laugh happily the way he always laughed. Of course we had many serious conversations. He was a kind and warm person, and in his role as adviser to me and all the students, he was both tough when necessary but mostly kind.
My wife and I recently visited him. He had been the celebrant at our wedding 47 years ago. We will never forget how wonderful he was during the wedding. To our surprise during the ceremony, he asked us to change positions with him so that we faced the people and he just faced us. During the sign of peace during the wedding he told us to walk down the aisle and wish everyone we could touch, "Shalom." The congregation was moved by his human touch.
We have a great love for Abbot Oscar, and feel blessed to have known such a kind, insightful and wise person.
– John and Mary (Bryan) Nackashi
Remembering Abbot Oscar – Dr. Kevin Soden
I have known Abbot Oscar Burnett for almost 55 years. I came to Belmont Abbey College as a freshman student in 1963 and Father Oscar was the dean of students. He was tough but fair and many students got to see the "Big O" (as he was known) walking around campus at all hours. He was a good teacher and an even better orator. He progressed from job to job over the years until he was elected abbot. Even though he held authority roles, he related extremely well with students and has officiated at the weddings of many students over the years. If you came to Abbot Oscar with a problem or for counseling, he was surprisingly gentle and would go out of his way to help in any way he could. He was always ready to laugh and had a very distinctive laugh.
I remember talking to Abbot Oscar many years later at a reunion outing. As we reminisced, he said was glad that he had mellowed because he knew he was very tough in years past and he liked his gentler self better.
He married my wife Meg and I in the Abbey basilica in 1995 and he baptized two of our daughters. He always remembered us on special days and the notes he sent were always joyous and fun to read.
He always took pride in the fact that he never needed medicines even into his 90s. He loved walking up and down the avenue in front of the Abbey with students and was only slowed briefly when he had a knee replacement. I remember going to Mercy Hospital the day after his last knee replacement. I figured at 90 he would be in the hospital for a few days. When I got there the next morning, I was told that he was gone. I immediately thought the worst, but they quickly reassured me that he'd gone back to the Abbey to recover. He was up and walking again in no time. He was tough and didn't want to slow down or be dependent.
— Dr. Kevin Soden
Remembering Abbot Oscar – Bob Gallagher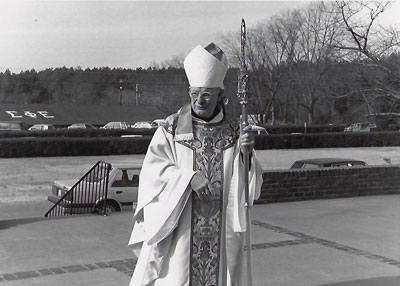 I have known Abbot Oscar since I was 12 years old. I grew up in St. Michael's Parish in Gastonia, which was staffed by the Benedictines. My first encounter with the good abbot was when he was still a deacon. He graciously took our Boy Scout troop to Boy Scout camp.
Abbot Oscar was a later vocation to the monastic life and priesthood, entering the monastery only after having been a successful attorney in Savannah. My first need of the then Brother Oscar was not his great spiritual insights. No, I needed a lawyer! I got in a fight at Boy Scout camp and was about to be sent home when Attorney Oscar came to my defense. I was allowed to stay.
This little altercation began a close relationship which has now lasted more than half a century.
I was privileged to attend Belmont Abbey College. When I arrived on campus, then Father Oscar had been named dean of students and a professor of business law and constitutional law. We affectionately called him "The Big O." He was tough but very fair – just what a bunch of young men needed.
The "Big O" had a particular heart for prisoners and used to round up some of us boys and take us to the prison in Dallas, N.C., to play baseball with the inmates. He taught us by example.
After college I decided to attend law school at least in part as a result of my classes in business law with Father Oscar.
As the years went by, Father Oscar became my confessor and helped guide me as a young man over the rough spots and around the blind corners that any young man faces as he grows older and hopefully wiser. The "Big O" was always there for me.
Later in life I was honored to be named to the Board of Trustees of Belmont Abbey College.
Thereafter Father Oscar became Abbot Oscar. This was during a difficult period for both the monastery and the college. As abbot he most successfully guided the monastery and for a time functioned as CEO of the college during our search for a new president. During this time Abbot Oscar asked me to become vice chairman and later chairman of the Board of Trustees. In such capacities I worked very closely with him for more than a decade. Our relationship of working together continued unabated until he finally retired from the Board of Trustees.
While during this time there were many memorable events, perhaps one stands out more than others as emblematic of Abbot Oscar's love and devotion to the students of Belmont Abbey College. Another trustee and I had just been seated in the abbot's office for a very important meeting. Just as the meeting started, Abbot Oscar was notified that a young female student's brother had just been killed in a car wreck back home. Rather than letting his capable staff handle this matter, Abbot Oscar immediately suspended our meeting. He got in touch with the young student's best friend at school and the two of them went to break the sad news to the sister of the young man just killed. He then had the young lady's friend accompany her home.
Abbot Oscar certainly had his priorities right.
He was always there for me, and I saw firsthand how he was there for others as well.
There are perhaps as many "Big O" stories among Abbey alumni of my generation as there are alumni. Some of these are truly funny, many very touching, all centered around a most personal relationship with and concern for students.
Quite simply: Abbot Oscar spent a lifetime devoted to Belmont Abbey Monastery and College, teaching young men and women not only how to earn a living but, more importantly, how to live a Christ-centered life. What more could anyone ask of one man?
— Bob Gallagher