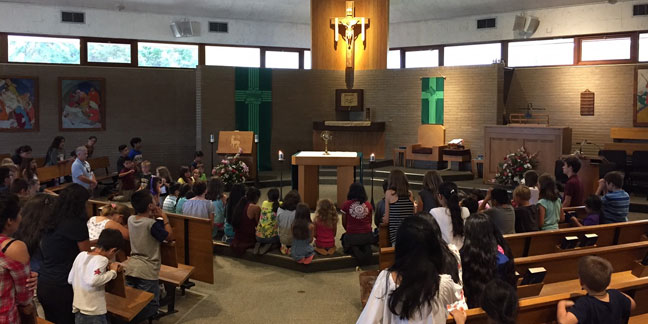 CHARLOTTE — Several parishes in the diocese have turned to a uniquely Catholic Vacation Bible School alternative and aren't looking back.
"Growing with the Saints really packages our Catholic faith in a way that is memorable for these kids. It teaches them in a way that really sticks with them," said Danielle Mathis, director of summer catechesis programs at St. Ann Church in Charlotte.
For the past six years, children at St. Ann Church have been exploring their faith through Catholic Kidz Camps. These uniquely all-Catholic Vacation Bible School curricula were developed by Growing with the Saints Inc., a family-company based in Indiana, said marketing manager Susan Lawson. They were developed by Lawson's sister, Melissa Kaiser, a mother of seven who wanted to fill a need for Catholic-specific vacation Bible school.
"Our goal was to make a Catholic VBS with all the same wonderful elements, and really teach our faith, evangelize and bring home Catholic teaching through the children," Lawson said. "These are comprehensive, quality, Scripture-based programs that talk about the saints by name and the Eucharist, in the music, in the skits – all throughout."
Pictured: Children at St. Eugene Church participate in Adoration during "Tracking Mary" camp. (Photo provided by Tracy Jedd.)
While many parishes in the Diocese of Charlotte use Totus Tuus as their summer Catholic youth program, some have been using Protestant Vacation Bible School lessons which teach general Christian lessons like "God loves" and "Jesus forgives" but are not tailored to the Catholic faith.
St. Ann Church, St. Dorothy Church in Lincolnton and St. Eugene Church in Asheville are among the more than 1,000 parishes nationwide using Catholic Kidz Camp programs.
"If these programs can reach our children, they can be the best evangelizers. If this material can get in the children's hands, we can try to bring parents back as active participants in their faith," Lawson said. "We want people to fall in love with their faith again."
After using Protestant-based camps, catechetical leaders at St. Ann Church decided they wanted their camps to provide solid Catholic catechesis, build the faith community and use the gifts of the parish's teens. Mathis said they explored Totus Tuus, but it didn't meet their goals.
That's when they found Growing with the Saints programs, which is simple for adult and teen volunteers to lead the lessons and it didn't take "tailoring" to fit with the faith lessons important to the parish, Mathis said.
"The children who participate, the teens who volunteer, and their parents grow in richness through these programs," Mathis said. "It embraces Catholic tradition. It's deep, but easy to grasp programs and materials."
The coordinator of Faith Formation and Edge at St. Eugene Church in Asheville, Tracy Jedd, also found Catholic Kidz Camp's programs while searching online. She used the latest program, "Tracking Mary," for this past summer's camp. The parish had been among those using a Protestant-based VBS for many years.
"I was excited when I saw it," Jedd said. "It was well-written. I didn't have to change anything out of it like the others programs I've used. It was so refreshing to get it and be able to use it right out of the box."
She said she didn't need to change much, but it was easy to adapt. St. Eugene used a large group, then smaller group format, instead of individual classes.
"The Marian program spoke to me and we just had the Our Lady of Fatima statue come through our parish, so it was a cool tie-in for the kids," Jedd said.
It's definitely Catholic, she said, and she liked that the program gave the children a chance for Eucharistic Adoration. Jedd said she was apprehensive at first that the children would cooperate.
"I was going to have them do something different, but something told me to set up for Adoration. We did it spur of the moment, and the kids responded to it wonderfully," Jedd said.
"They were quiet. I used it as a teaching moment, so they knew what Adoration was and what they're supposed to do. I told them they could come up and kneel. I was expecting maybe a couple would. The whole altar, the kids were wrapped around it, on their knees."
Jedd said she really felt the Holy Spirit present throughout the week and especially during the children's Adoration time.
Catholic Kidz Camp goes beyond the "throwaway" lessons good for only one use during a week-long camp. Lessons could be pulled from "Tracking Mary" and used in May or October in honor of Mary, for example.
"We'll keep it around and use it as we can," Jedd said.
St. Dorothy Church found the program while looking for Marian content to use to supplement the VBS plans for the Fatima anniversary, said Director of Religious Education Meg Barrett. "It was really solid. Really Catholic and really fun, for us and for the kids."
They hope to try one of the other programs next year, Barrett said.
Five other Growing with the Saints camps have been developed since 2012: "Vatican Express" featuring St. Jerome; "Assorted Saints and the Virtues of Faith, Hope and Love"; "Parade Around the Our Father" featuring St. Joseph of Cupertino; "Set Sail with the Holy Trinity" featuring St. Patrick; and "Parachute with the Angels and St. Catherine Laboure."
St. Ann Church has taught all six camps and will continue to rotate through the camps and look to try others as they're developed in the future, Mathis said. St. Eugene will definitely use another of the Growing with the Saints programs next summer, Jedd said.
To a parish considering using a Growing with the Saints program, Mathis encourages them to investigate the resources available.
"The creators of these have poured their heart and soul into the material," Mathis said. "They're fulfilling a niche that was needed."
— Kimberly Bender, online reporter
Learn more
At www.growingwiththesaints.com: Learn more about these Catholic-based Vacation Bible School and catechetical programs