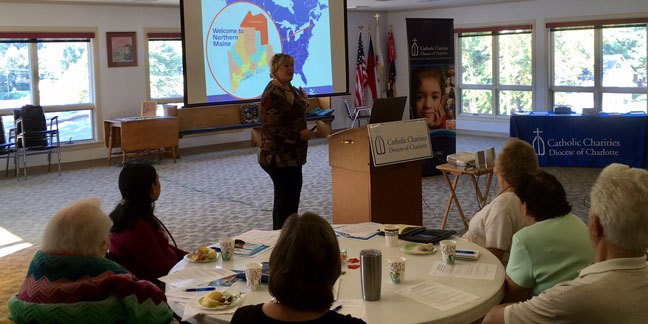 HAYESVILLE — Catholic Charities Diocese of Charlotte's eighth Bishop Begley Conference on Appalachia (BBCA) was recently held at Hayesville First United Methodist Church.
The conference brought together an ecumenical audience of more than 40 people to address food insecurity in far western North Carolina through learning, prayer and the distribution of small grants. The keynote presenter was Dixie Shaw, program director of Hunger and Relief Services of Catholic Charities Maine. Shaw spoke about numerous creative ways she has marshalled resources to fight food insecurity in northern Maine's Aroostook County, and the web of partnerships she has developed to ally with Catholic Charities in this work. For example, through the Catholic Charities Maine "Farm for Me" program, the agency provides 24 food pantries in Aroostook County with fresh vegetables thanks to food grown on the program's six acres, partnerships with local farmers, and a partnership with a local micro-processing company which flash-freezes the harvest surplus for distribution during winter months.
Other sessions at the Bishop Begley Conference on Appalachia provided a reflection on the parish-based food pantry at St. Francis of Assisi Church in Franklin which has assisted those in need in Macon County for 17 years; looked more in depth at the extent of food insecurity in the 16 counties of far western North Carolina through data provided by Asheville-based Manna Food Bank; and offered advocacy tips to address food insecurity through the shaping of public policy.
Manna Food Bank is a non-profit that works with 229 community-based agencies and food assistance programs in 16 western North Carolina counties, including the food pantries operated by Catholic Charities in Asheville and St. Francis of Assisi Church in Franklin.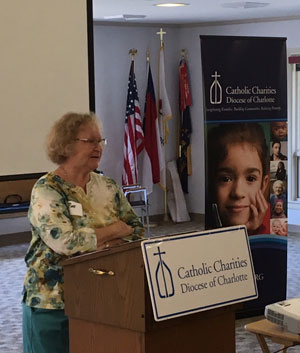 Sobering information was shared at the conference, such as: 13,000 people each week seek food assistance in western North Carolina, and just over 42 percent of these people are children or seniors; an estimated four out of five households assisted by Manna partnering agencies live on less than $20,000 a year; and nationally, North Carolina ranks 11th in the nation in childhood food insecurity with 26.7 percent of children struggling to have access to three meals a day (2014 Map the Meal Gap Study).
Also at the conference, Catholic Charities Far West Growing Opportunities Grants totaling $16,000 were distributed to seven non-profit organizations and ministries combating food insecurity in the four counties of Cherokee, Clay, Graham and Swain. Funded projects included three food pantries, three community gardens, and a non-profit assisting people facing both low income and diabetes to receive health appropriate food assistance.
Go to www.ccdoc.org/fwncto find more information about this conference, resources on food insecurity, and the Catholic Charities Far West Growing Opportunities Grant Program and this year's grant recipients.
Joseph Purello, Special to the Catholic News Herald. Joseph Purello is the director of Catholic Charities Diocese of Charlotte's Office of Social Concerns and Advocacy.