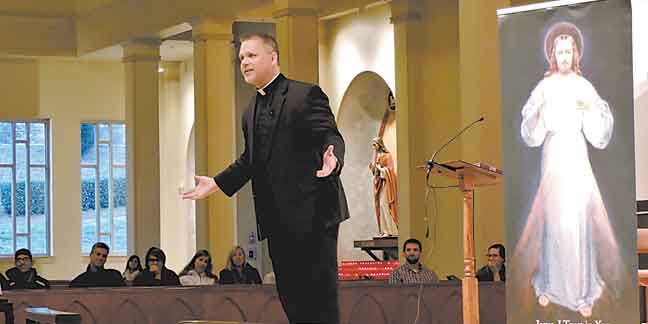 HUNTERSVILLE — Parishioners of St. Mark Church experienced a spirit-filled parish Lenten mission March 13-15. Led by volunteer coordinator Jean Whelan, more than 1,000 people came each night to hear the message of Divine Mercy given by Father Christopher Alar (pictured) and Father Michael Gaitley from the Marians of the Immaculate Conception.
Additionally, several hundred people came to Mass each morning when Father Alar gave an extended homily on Monday and Tuesday, and Father Gaitley on Wednesday.
Father Gaitley is director of evangelization for the Marian Fathers of the Immaculate Conception and director of formation for the Marian Missionaries of Divine Mercy; and Father Alar is director of the Association of Marian Helpers.
This was the first time they led a joint Lenten mission. There was a large selection of books and DVDs for purchase, but the parish mission completely sold out of Father Gaitley's book "33 Days to Merciful Love," a do-it-yourself retreat preparation for Consecration to Divine Mercy.
Only in its second year, the consecration began March 21 and ends on Divine Mercy Sunday, April 23. All proceeds from books sales were given to the Marian Missionaries of Divine Mercy.
— Photo provided by Amy G. Burger