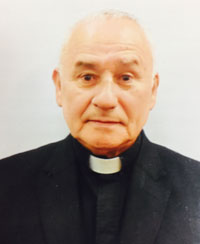 KANNAPOLIS — Deacon Bernardino "Wilson" Velez has been assigned by Bishop Peter Jugis as a permanent deacon at St. Joseph Church in Kannapolis, effective May 22.
Deacon Velez and his wife Maritza recently moved from Hazelton, Pa., where he served at Holy Name of Jesus Parish in West Hazelton.
Having grown up in Puerto Rico, he and his wife now live in Landis and are enjoying the milder winter months. He was ordained Nov. 27, 1999, for the Diocese of Scranton, Pa.
Deacon Velez brings with him more than 17 years of experience as a permanent deacon serving at two different parish assignments.
His service as a deacon has been extensive in the area of Hispanic ministry. As Bishop Joseph Bambera of the Diocese of Scranton said of him, "In his parish diaconal assignments, Deacon Velez carried out a vibrant apostolate to the Latino community." Deacon Velez hopes to do the same in his assignment at St. Joseph Church.
— Catholic News Herald