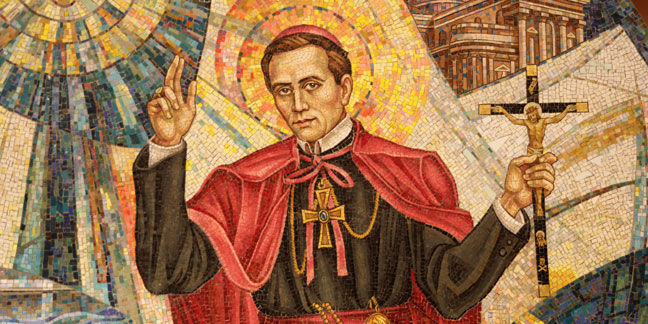 John Nepomucene Neumann was born on March 28, 1811, in Bohemia, now part of the Czech Republic. His parents were Philip and Agnes Neumann. He had four sisters and a brother. After college, Neumann entered the seminary. When the time came for his ordination, the bishop was sick and the date was never rescheduled as Bohemia had enough priests at the time.
He wrote to bishops all over Europe but the story was the same everywhere: no one wanted any more priests. He was sure he was called to be a priest but all the doors to follow that vocation seemed to close in his face. But he didn't give up. He had learned English by working in a factory with English-speaking workers, so he wrote to the bishops in America. He walked most of the way to France and then boarded a ship to New York.
He arrived in Manhattan on June 9, 1836, where he was gladly welcomed by Bishop John Dubois, who at that time had only 36 priests for the 200,000 Catholics living in the state of New York and part of New Jersey. Just 16 days after his arrival, Neumann was ordained a priest and sent to Buffalo, N.Y., where his parish territory stretched from Lake Ontario to Pennsylvania.
Father Neumann established himself in a small log parish house. He hardly ever lit a fire and often lived on only bread and water. His church had no steeple or floor but that didn't matter because he spent most of his time traveling from village to village, climbing mountains to visit the sick, staying in garrets and taverns to teach, and celebrating the Mass at kitchen tables.
Because of the work and the isolation of his parish, he longed for community and so joined the Redemptorists, a religious congregation dedicated to parish and foreign missions, and later became superior of all Redemptorists in the United States.
In 1852 Pope Pius IX named him bishop of Philadelphia. He spent the rest of his life building churches, schools and asylums for his diocese.
He built 50 churches and began the construction of a cathedral.
He was devoted to education and was the first bishop to organize a diocesan school system in the United States. He opened almost 100 schools, and the number of parochial school students in his diocese grew from 500 to 9,000.
He never lost his love and concern for people, and was most comfortable among the poor. On one visit to a rural parish, the parish priest picked him up in a manure wagon. Seated on a plank stretched over the wagon's contents, he joked, "Have you ever seen such an entourage for a bishop!"
The ability to learn languages that had brought him to America led him to learn Spanish, French, Italian and Dutch so he could hear confessions in at least six languages. When Irish immigration grew, he learned Gaelic so well that one Irish woman remarked, "Isn't it grand that we have an Irish bishop!"
He died suddenly on Jan. 5, 1860, aged 48.
He became the first American bishop to be beatified. He was canonized by Pope Paul VI on June 19, 1977, the first American male saint. He is buried in St. Peter the Apostle Church in Philadelphia.
— Catholic News Agency, Catholic Online