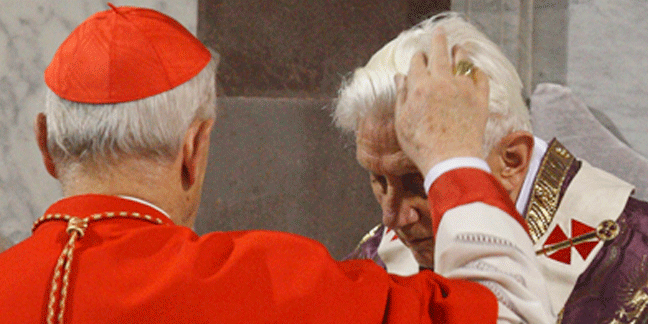 Ash Wednesday marks the start of Lent. It is a day of fast and abstinence, though it is not a holy day of obligation. During the Ash Wednesday Mass, ashes are marked on the foreheads of the faithful with the Sign of the Cross. The ashes are a symbol of penance and remind us that we are creatures of the earth and mortal beings: "For dust you are and to dust you shall return" (Gen. 3:19).
Today, the priest marks the foreheads of the faithful with the ashes while saying, "Remember, man, you are dust and to dust you will return," or "Turn away from sin and be faithful to the Gospel."
During earlier observances of Lent, the season began on Quadragesima Sunday, the sixth Sunday before Easter. But because no fast was kept on Sundays, the penitential season consisted of only 36 days of fasting. So that the faithful may imitate Jesus' 40 days of fasting in the desert, four days were added. To add these four days, Pope St. Gregory the Great moved the start of Lent to the Wednesday before Quadragesima Sunday.
The ashes, which help us to develop a spirit of humility and sacrifice, are made from the blessed palms used in the Palm Sunday celebration of the previous year. The ashes are blessed with holy water. While the ashes symbolize penance and contrition, "they are also a reminder that God is gracious and merciful to those who call on Him with repentant hearts," states Catholic.org.
The customary use of ashes as a sign of repentance is seen in the Books of Jeremiah, Daniel and Jonah of the Old Testament. In the Book of Judith, acts of repentance involved ashes being put on people's heads: "All the Israelites in Jerusalem, including women and children, lay prostrate in front of the Temple, and with ashes on their heads stretched out their hands before the Lord" (Judith 4:1).
The practice within the Church originated from a custom involving those who had committed serious sins. In the ancient Church, penitents expressed their humiliation by appearing in sackcloth and ashes. On Ash Wednesday they were presented to the bishop, clothed in sackcloth and barefooted. After the seven penitential psalms were sung, the bishop laid his hands on them, sprinkled them with holy water, and poured ashes upon their heads, declaring "that as Adam was cast out of paradise, so they, for their sins, were cast out of the Church. Then the inferior ministers expelled them out of the doors of the church. In the end of Lent, on the Thursday before Easter, they were presented for reconciliation," according to the "Cyclopaedia of Biblical, theological, and ecclesiastical literature" by John McClintock.
— Sources: "Cyclopaedia of Biblical, theological, and ecclesiastical literature," by John McClintock, and www.catholic.org
-- Christopher Lux, intern