Ordained at 80, Father Murphy built church in 1969
MAGGIE VALLEY — Nov. 16 is a special day for St. Margaret of Scotland Parish. The humble church nestled in the mountains of western North Carolina is home to 140 families year-round but welcomes scores of visitors in the summer months. Built by Father Michael W. Murphy in 1969, it is a reflection of his love for his mother, the late Margaret Murphy, and his love of his Catholic faith and his devotion to the Eucharist.
Father Murphy, then a wealthy businessman, arrived in North Carolina from Detroit in 1950. He was a builder, concentrating his efforts on churches and structures that gave glory to God. Throughout the next decade, the "Apostle of the Smokies" traveled about the mountain towns of Murphy, Sylva and Cullowee, financing and leading construction of St. William Church, St. Mary's Church and the Neumann Center on the campus of Western Carolina University.
He later bought 33 acres in Maggie Valley. A two-story building was converted for use as a chapel, where a Waynesville pastor celebrated Mass during tourist season. Murphy furnished the chapel with statues that had belonged to his mother.
Parishioner Shirley Pinto and her late husband Al were friends of Murphy, who frequented their restaurant in Maggie Valley. They suggested Murphy purchase another property for sale in the area, owned by a retired Methodist minister. He built a 25-unit motel on the site, naming it Falling Waters. Later, Bishop Vincent Waters of Raleigh gave him permission to build a church on the land, and in August 1969, the new St. Margaret Church was dedicated.
"When they were going to name the church, Bishop Waters asked Murphy what he wanted to name it. He said, 'I'll call it St. Mary's.' And the bishop said that since the church in Sylva was St. Mary's it would be good to select another name. So the bishop said since there was such a strong Scottish influence in Haywood County, 'Why don't you call it St. Margaret's in your mother's name and have St. Margaret as the patron saint?'
"She always fed the poor and he always fed the poor. His whole life, like his mother's life, was the Eucharist. It was the most important thing in his life," Pinto explained.
The church was built large enough to seat 200 people, although there were only a handful of Catholics in Maggie Valley then. "I didn't built this because of the demand," Murphy said at the time. "I built it for the future – strong so it will last for ages. Someday, it will be full every Sunday."
As he oversaw Murphy's various church building projects, Bishop Waters frequently urged the zealous layman to consider becoming a priest. Murphy had long wished to be a priest, since he was 3, but he later admitted he resisted God's calling because he "was only a poor sinner and did not have much education."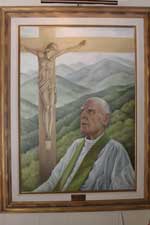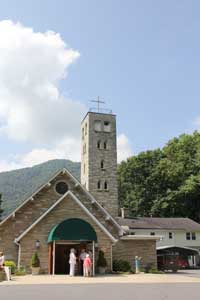 After prayerful discernment and support from Bishop Waters, Murphy studied at St. Meinrad Seminary in Indiana and on May 11, 1972, he was ordained by then-Bishop Michael J. Begley at the church he had built in Maggie Valley. Father Murphy was 80 at the time of his ordination, and the unusual ordination drew media coverage from all over the world.
The Pintos were present at Father Murphy's ordination. Shirley Pinto recalls a funny situation the day after Father Murphy was ordained, on the morning of his first Mass.
"Father Murphy had a Cadillac. All the priests who were visiting for the ordination and the first Mass staying in the motel were being shuttled from the motel to the church in his car. When it got close to the time for the first Mass they didn't know where Father Murphy was. They didn't realize they had his Cadillac! He had no way to get there. All of a sudden it dawned on them," she said.
After serving for a year at a North Carolina coastal parish, Father Murphy returned to the church he had built in Maggie Valley. As pastor of St. Margaret Church, he built a house that later would serve as a convent and a retreat house. In February 1977, the retreat building burned to ruins, but the flame of evangelization that burned in Father Murphy's heart raged on.
Father Murphy continued to own and operate Falling Waters Motel. Under Bishop Begley's direction, the motel was renovated for use as the Living Waters Catholic Reflection Center, and today it remains a popular retreat spot. In 1981, the pastor also donated a building on the land to the diocese for use as a parish hall.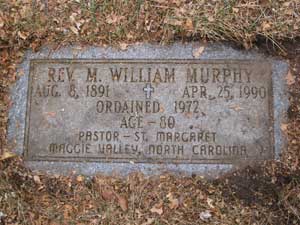 Father Murphy's presence remained a constant in the parish community until his death at the age of 99 in April 1990. A parish hall, built and dedicated in the early 1990s, was named Murphy-Garland Parish Hall in honor of the priest who gave so much to the community.
"The Lord brought him here through the love of his mother. Then the Lord just worked. I told Father I don't think he'd ever done anything that the Lord hadn't told him to do. This is holy ground," Pinto said.
As St. Margaret of Scotland was known for her love of the poor, feeding the poor and her assisting those in need, the parish published a cookbook years ago telling the story of Father Murphy and the evolution of the church. Pinto says that they are currently working on an updated version which will be available in the near future.
— St. Margaret of Scotland Parish contributed to this article.