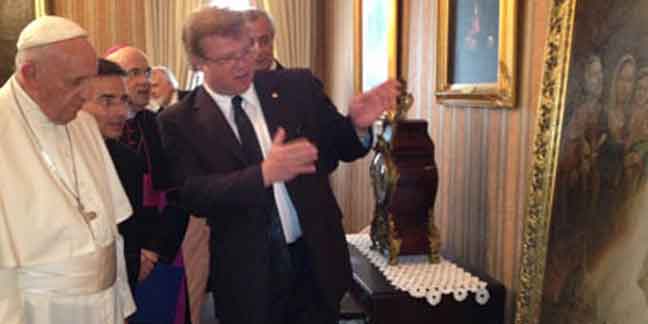 WASHINGTON, D.C. — Master painter and portraitist Igor Babailov has done it again. He has created another masterpiece, a portrait featuring Pope Francis, which he presented to the pontiff on Sept. 24 during the Holy Father's visit to the nation's capital. He and his wife, Mary, traveled from their home in Nashville, TN for the honor.
Babailov's life, like a fine painting during its inception, is a beautiful work in progress. Born into an artistically and academically gifted family in the Soviet Union in the early 1960s, he grew up a Russian Orthodox in Moscow before the fall of Communism in Eastern Europe.
"The Church when we were kids was looked at like a museum," Babailov recalls. "The Church was abused by the Soviet Regime and they were very particular about making sure you did not carry things (like religious books) in your pockets."
Pictured: Left to right: His Holiness Pope Francis, Monsignor Mark Miles, Papal Nuncio Archbishop Carlo Maria Vigano, Maestro Igor Babailov (Photo provided by Mary Calia)
Babailov's mother, a teacher for 57 years, couldn't go to church because she could have been fired from her job.
"Now the Russian people and my mom can go to church. She was baptized in 1997, right before all the big changes happened. I think God was always with us (during that time) in our hearts. Once people had the freedom, they went to church."
Babailov, now 49, is an Honorary Academician of the Russian Academy of the Arts. He created his first portrait at the age of 4. He started his formal arts education at the age of 9 and was selected to the prestigious Moscow Secondary School of Fine Arts at the age of 13.
After completing his higher education at the V. Surikov Moscow State Academic Art Institute, where great Masters like Whistler honed their artistic skills, Babailov spent time in Canada and in New York City before moving to his adopted hometown of Nashville.
During the past 45 years Babailov has created more than 2,000 portraits and other works. The list of honors, awards and accolades are impressive for this Russian artist who is best known for his portraits which are "drawn from life" and his large murals depicting famous and not-so-famous people in real poses which capture the essence of who they are.
When asked if he ever thought growing up during his formative years as an artist if he would ever be commissioned to sketch and paint popes for the Catholic Church, Babailov says, "Not in my wildest dreams!" with a hearty laugh.
Thinking back to the brief time when Pope St. John Paul II sat for a sketch for him before he created the official portrait for the Vatican, Babailov tries to put into words what it was like to sit with the future saint.
"It's something hard to describe. I remember John Paul II's eyes. They were so blue. The bluest eyes I have ever seen in my life. They were like the beautiful sky, the beautiful ocean. They were looking not at me but looking through me."
After presenting the portrait to the Holy Father at a private audience with him, both Babailov and his wife experienced a very strong interior feeling in their hearts that later drew them to tears.
"My wife and I couldn't stop crying. Not immediately, but it was something so powerful and so touching. I can't describe what it was but we were literally in the presence of a saint. We didn't know it yet but that's what it was."
Babailov also created a portrait of Pope Emeritus Benedict XVI for the Vatican. A sculpture of Jesus Christ which is found in the Louvre in Paris which Babailov calls 'Vita' is featured in the portrait alongside the pope.
"There are a whole group of figures in the wall in the Louvre and Jesus is one of them. In the tradition of the Renaissance, the most common art form seemed to be sculptures, so it's a treatment which shows a painter's skill by painting an image in two colors; a monochromatic image which requires a different treatment of tonal values."
In other words, that's more of a challenge for a painter and it's the way the Old Master's did it.
"In black and white you can see immediately when there is something off. Painting a sculpture is something every artist should be able to do."
Babailov painted the statue of Jesus first and then thought it would be a nice balance to the composition of the portrait of Pope Benedict XVI.
"I always get some time with the subject to get a feel for the person," he says. "But the sketch is not enough." He then relies on inspiration and his formal artistic training to do the rest.
Babailov has traveled the world to meet with the subjects of his portraits. From princes, to politicians, to world leaders, to business executives – he enjoys the variety of people who look to him for a lasting memory, regardless of their social status.
On Sept. 24, Babailov presented Pope Francis his latest work which had been in process for over a year. His current portrait is of Pope Francis and includes the Holy Family, children and portrays the essence of Pope Francis. He personally greeted the pope during the presentation at the Vatican Embassy in D.C.
"My painting of Pope Francis which I called 'The Holy Cross,' is more than a portrait in the traditional sense," Babailov says. "It is a story of the Pope told through symbols with the Pontiff's figure in the center. It tells of His Holiness's mission of love, faith and devotion to help the needy and bring people of the world together.
"During the unveiling of the painting, the Holy Father said to me 'It is inspirational, it touches me!'
"I love to paint people," Babailov admits. "To me they are all God's children. It's personal. The focus of my portrait work is to capture the individuality of the person. It makes it all beautiful.
"I just love people. I am just fortunate I get to meet popes and celebrities."
For more information on Babailov's work, go to www.babailov.homestead.com.
— SueAnn Howell, senior reporter