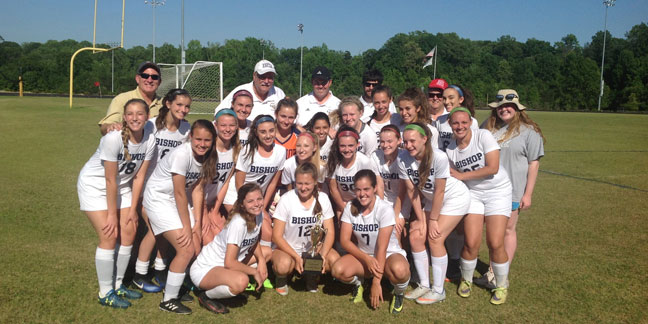 KERNERSVILLE — Bishop McGuinness High School has been named one of 15 girls soccer teams nationally to receive the NSCAA High School Team Ethics and Sportsmanship Gold Award.
The award is presented by the National Soccer Coaches Association of America (United Soccer Coaches). The Villains, one of only two North Carolina high school girls soccer teams honored (along with Charlotte Latin), are being recognized for the spring 2017 season.
Bishop McGuiness finished the 2017 season 19-3 overall, Northwest 1-A Conference Champions (10-0), quarterfinalist in the NCHSAA 1-A playoffs and fourth-ranked in the final 1-A MaxPreps rankings. Head coach Ray Alley was named 1-A NC State Coach of the Year by the N.C. Soccer Coaches Association.
"We are grateful of the recognition the NSCAA has given to the level of sportsmanship our players bring to their games," said Alley. Bishop players received only two cautions (yellow cards) during a 22-game season. "It reflects their ability to compete at a high competitive level and also maintain a high commitment to fair play."
— Kimberly Knox