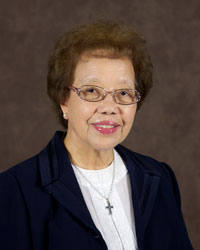 BELMONT — Mercy Sister Carmen Cruz, 82, entered eternal life June 9, 2017, at the Sisters of Mercy's Sacred Heart Convent in Belmont.
A service of remembrance will be held at 7 p.m. Thursday, June 15, 2017, at Sacred Heart Convent, 500 Sacred Heart Circle, Belmont. A Mass of Christian Burial will be celebrated at 10:30 a.m. Friday, June 16, 2017, in the Sacred Heart Convent Chapel followed by burial at Belmont Abbey Cemetery.
Sister Carmen was born in Agana, Guam, the daughter of the late Enrique and Rosa Rojas Mafnas.
A Sister of Mercy for 64 years, at the time of her profession of vows she chose as her ring motto to be "Rabboni" ("Master").
She earned an undergraduate degree in early childhood education from Sacred Heart College in Belmont and a master's degree in the Theology of Applied Spirituality from the University of San Francisco. She was an outstanding primary education teacher in Catholic schools on Guam and in Charlotte, Asheville, Wilmington and Gastonia for 28 years. For 26 years she served at St. Joseph's Hospital in Asheville as a certified hospital chaplain. During this time she also worked with the Asheville Police Department as a volunteer chaplain.
Her ministries were known and awarded. Among these was the prestigious Order of the Long Leaf Pine, an award given by the governor of North Carolina to recognize extraordinary service to the State of North Carolina.
After leaving active ministry, Sister Carmen volunteered in a local grade school tutoring students in reading and she spent one day a week as a volunteer chaplain at Carolina Medical-Mercy Hospital in Charlotte. She also assisted students with special needs at Holy Angels Life Choices in Cramerton. Gardening was one of her hobbies, allowing her to enjoy flowers whenever she wished. Not to be overlooked was her cherished cat, Patches. She relished dancing and some say she danced her way into heaven to be with her most beloved "Rabboni," Jesus.
She is survived by two brothers, Antonio and Jesus Cruz; four nieces and four nephews; numerous cousins; and members of the community of Sisters of Mercy.
Memorial donations may be sent to the Sisters of Mercy of the Americas, 101 Mercy Drive, Belmont, N.C. 28012.
McLean Funeral Home in Belmont was in charge of the arrangements.
— Catholic News Herald