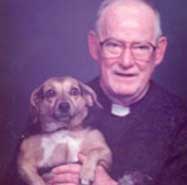 ELMIRA, N.Y. — Father Raymond B. Hourihan, 91, passed away Oct. 11, 2016, at the Arnot Ogden Medical Center in Elmira, N.Y.
A wake and vigil prayer service will be held at 3:30 p.m. Friday, Oct. 14, 2016, at St. Mary's Church in Elmira. Visitation will continue until 7 p.m.
A Mass of Christian Burial will be celebrated at 9:30 a.m. Saturday, Oct. 15, 2016, at the church. Committal prayers and interment, with military honors, will follow at St. Peter & Paul's Cemetery.
Father Hourihan was born in Elmira on June 15, 1925, a son to Patrick and Mary (Troy) Hourihan. He was the last surviving of his siblings.
He was a U.S. Navy veteran who served in the South Pacific during World War II. He worked in the insurance industry as a safety engineer, then later went to work at the Elmira Psychiatric Center, retiring as the chief safety officer.
Upon his retirement he took up his calling to priestly ministry. He entered Holy Apostles Seminary in Cromwell, Conn., and was ordained to the priesthood on June 20, 1987.
He served as parochial vicar at St. Gabriel Church in Charlotte, parish administrator at Holy Infant Church in Reidsville, and as pastor of Our Lady of the Annunciation Church in Albemarle and St. John the Evangelist Church in Waynesville.
For the past several years he spent his time between Elmira and Lakeland, Fla.
He was a long-time member and former chaplain of the Monsignor John J. Lee Division of the Ancient Order of Hibernians, where he served as president and in every other board position.
Officers and members of the Ancient Order of Hibernians will meet at St. Mary's Church on Friday at 7 p.m. to conduct a service for their brother "Father Ray."
He was preceded in death by his brothers, Joseph and John Hourihan, and sisters, Agnes Hourihan, Mary Dillon, Jane Broschart, Theresa Hourihan and Helen Hourihan.
He is survived by his sister-in-law, Patricia Hourihan of Pine City; brother-in-law, Charles Broschart of Balston Spa, N.Y.; and several nieces, nephews and cousins.
Those wishing may remember Father Hourihan with a donation either to St. Mary's Church, 224 Franklin St., Elmira, N.Y. 14904, or the Monsignor John J. Lee Division of the Ancient Order of Hibernians, 701 Kinyon St., Elmira, N.Y. 14904.
— Tim Tobin, president, Monsignor John J. Lee Division of the Ancient Order of Hibernians