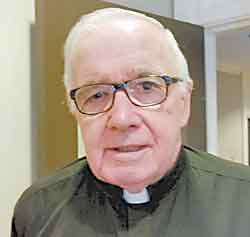 CHARLOTTE — Bishop Peter J. Jugis announces the appointment of Jesuit Father James M. Bowler as in residence at St. Peter Church, effective Feb. 1.
Father Bowler will serve as a pastoral minister for all the sacraments and adult education programs, especially in Ignatian spirituality.
He previously served as facilitator for Catholic and Jesuit identity at Fairfield University in Connecticut as well as director of the university's Center for Ignatian Spirituality.
This followed more than 20 years of ministry in the area of spiritual direction as director of the Campion Renewal Center in Weston, Mass.; executive director of the National Jesuit Retreat and Renewal Ministries; and staff member at Loyola House, the Guelph Center for Spirituality in Guelph, Ontario, where he was responsible for training and supervising spiritual directors in the Ignatian tradition. He has spent many years integrating Ignatian spirituality with the psychology of Carl Jung.
— Catholic News Herald