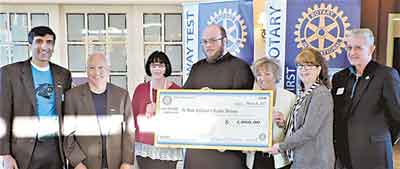 HUNTERSVILLE — The Rotary Club of Lake Norman recently gave a $4,000 grant to the Alzheimer's Respite Ministry at St. Mark Church. Father Cory Catron, parochial vicar, accepted the donation along with Respite Ministry founders and organizers Janet Urban and Susan Liuzzo and Young at Heart Ministry Coordinator Leanne Vaccaro.
St. Mark's Alzheimer's Respite Ministry offers caregivers a place to leave their loved ones who have early to moderate-staged Alzheimer's for a few hours in a safe, prayerful and loving environment. Each week, a team of volunteers come together to staff and oversee the ministry. Weekly activities include a circle "share" time, craft, games, refreshments, physical activity and then prayers.
Every 68 seconds someone is diagnosed with Alzheimer's Disease. With the largest aging population ever in the United States, all families will eventually be affected by this disease. "It is my dream that this ministry becomes a model for other churches to follow," Urban says.
Another of her goals when the program began was to create a library of books, DVDs and other resources to help loved ones understand the disease and its progression. A part of the Rotary Club grant will be used for this purpose.
The ministry is offered free each Monday. Run by volunteers, it is part of the Young at Heart program at the parish coordinated by Leanne Vaccaro. Registration is required. People can register by emailing Urban at This email address is being protected from spambots. You need JavaScript enabled to view it..
— Amy Burger