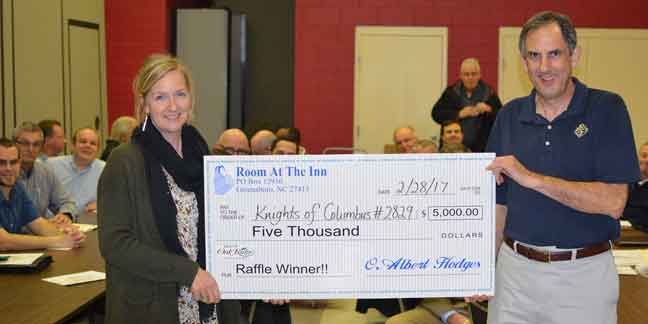 WINSTON-SALEM — Room At The Inn has a raffle each year to raise money for its programs that help single pregnant homeless women to choose life for their babies and transition to an independent future full of hope.
Each ticket costs $100 and only 300 are sold. The winner receives $5,000. This year's winner was Knights of Columbus Santa Maria Council 2829 from St. Leo the Great Church in Winston-Salem. The Knights council has been supporting Room At The Inn for many years as well as taking part in many other pro-life activities locally.
Last week Room At The Inn received a check in the mail returning half of their winnings!
Room At The Inn would like to thank Knights Council 2829 for their continuing generous support as well as all the councils around the state who also support the mothers and babies in their programs.
— Marianne Donadio
— Marianne Donadio