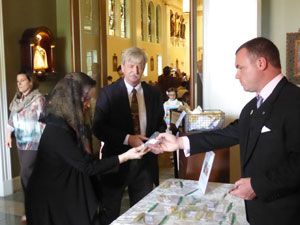 CHARLOTTE — Chris Hall with the Charlotte Latin Mass Community at St. Ann Parish passes out blessed St. Peter Martyr palms after a Mass in the Extraordinary Form celebrated April 30.
April 29 was the feast of St. Peter Martyr, a Dominican friar, and in the Extraordinary Form, there is an ancient custom to honor St. Peter by having palm leaves blessed in his honor.
Tradition holds that when buried on one's property, these blessed palms guard against natural disasters.
This is the third year that St. Ann's pastor, Father Timothy Reid, has blessed St. Peter palms for the faithful. For more information about the Latin Mass community in Charlotte, go online to www.charlottelatinmass.org.
— Mike FitzGerald | Catholic News Herald