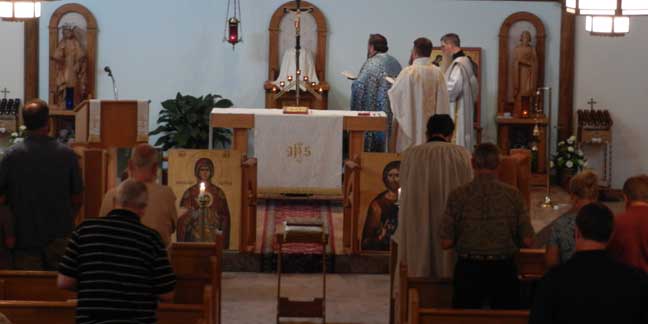 SYLVA — Father Mark Shuey, the former pastor of St. Basil the Great Ukrainian Catholic Mission Parish in Charlotte, gave a retreat and talk Aug. 17-20 at St. Mary, Mother of God Church in Sylva about acedia, based on the book "The Noonday Devil" by Benedictine Abbot Jean-Charles Nault.
The Third Annual East/West Retreat brought together clergy of the St. Josaphat Eparchy's North Carolina missions for a weekend of prayer, liturgy, fellowship, and evangelization of the Western Carolina mountain region.
The noonday devil is the demon of acedia, or the vice of spiritual sloth. Acedia is not laziness; in fact, it can manifest as busyness or activism. Rather, acedia is a gloomy combination of weariness, sadness and lack of purposefulness.
Father Shuey shared with those in attendance the signs and experiences one has with this demon, and how to overcome these troubles with prayer and fasting. He shared the teachings of Evagrius Ponticus, also called Evagrius the Solitary, a Christian monk and ascetic, and he reviewed other wisdom from the early Church and Eastern Catholic teachings on this topic.
Retreat participants celebrated vespers at the end of each day, along with Divine Liturgy on the final day of the retreat. Father Deacon Kevin Bezner of St. Basil Mission assisted at the retreat.
Retreat host Father Josh Voitus, pastor of St. Mary Church, and Father Peter Shaw, pastor of St. Joseph Church in Bryson City, joined for Divine Liturgy as well. At the conclusion of the retreat, Father Voitus hosted a buffet and fellowship where people were able to talk more with Father Shuey and others.
— Brandon Berryhill | Catholic News Herald