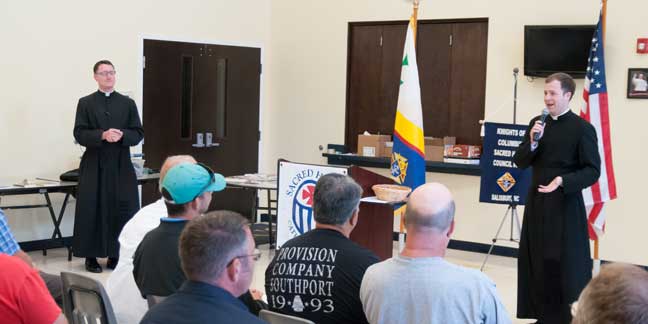 SALISBURY — About 48 men from Sacred Heart Church were treated to a "mini-retreat" Sept. 17, sponsored by the Knights of Columbus Council 8680.
The morning began with Mass, followed by a continental breakfast prepared by the Knights of Columbus.
Father John Eckert, pastor, spoke about the call to universal holiness.
This is a call to recognize that each one of us is called to be saints, and while this is a lofty goal, God gives us the grace to achieve it. At the end of the day, we're called to do so much more than the bare minimum, he said; we're called to holiness.
Father Lucas Rossi, parochial vicar, spoke on "praying for Scripture," focusing on Lectio Divina, using a Benedictine guide developed by Benedictine Father Luke Dysinger that suggests going more deeply into the Scripture by reading, pondering and praying the readings.
The retreat was concluded with confession and recitation of the rosary, led by Deacon James Mazur.
— Bill Washington | Catholic News Herald