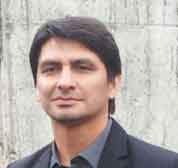 WINSTON-SALEM — Bishop Peter Jugis announces the appointment of Father Calixto Salvatierra Moreno, OFM Conv., as parochial vicar of Our Lady of Mercy Parish in Winston-Salem effective March 30.
Father Moreno was born in Santa Cruz de la Sierra, Bolivia. The son of Donald Salvatierra and Elena Moreno, he has two brothers and three sisters. He completed his basic studies at the Colegio Nacional Minero in Santa Cruz and his higher studies at the Catholic University of San Pablo in the city of Cochabamba.
In 2002 he professed his solemn vows with the Conventual Franciscans in Bolivia.
He was ordained a priest in 2004 by Archbishop Tito Solari of the Archdiocese of Cochabamba.
He holds a degree in theology, philosophy and civil and ecclesiastical masters in theology-missionology. He also has years of experience in teaching at the Catholic University among other academic centers, and considerable national (Bolivia) and international conferences in the field of missiological and ecumenical issues. He speaks Spanish and Italian and basic English.
His pastimes are reading and soccer, among other sports.
— Catholic News Herald